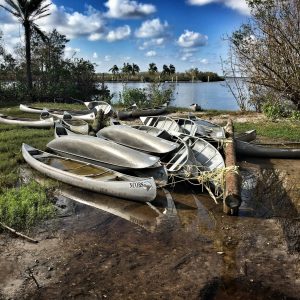 Written by: Nicole Fava
It has been four months since Hurricane Irma's storm surge slammed Southern Florida's little town of Everglades City, and everyday life, while making tremendous strides, has not yet returned to normal.
For North Carolina Outward Bound School (NCOBS), an outdoor education nonprofit that offers programs in the area, the recovery process has proven to be slow, but steady.
Since the 1980s, NCOBS has been running programs for youth and adults out of its historic base camp on Sunset Island. While picturesque, its remote location, separated by the waterway, has made some recovery efforts challenging.
"When we were first able to get to the base to start working, our efforts were focused on triage," said John F. Porter, the Recovery Project Manager for the School. "There were no real repairs happing. We didn't even receive power until the end of November, and freshwater and septic were only just restored two weeks ago. At that point we were just worried about cleaning up and stabilizing the area."
The first step, as was the case with many in the Everglades City area, was to simply start opening up the flooded buildings and airing them out. In addition to water, the storm surge deposited inches upon inches of mud.
"Unfortunately," said Porter, "the sediment here is really fine and it had dried up inside the buildings like concrete. We spent a lot of days in hot conditions just chipping away at it."

Like other essential infrastructure, the storm interrupted barge service to the island, keeping large or heavy resources out of reach. "So," said Porter, "things like a Bobcat, which is instrumental in demolition, are just not an option. We are literally taking apart things nail-by-nail and swing-by-swing. Then, once we take it down, we have to figure out how to get it back to the main land. I am pretty sure everyone who has come and left from our base in the past few months has taken some scraps back to the mainland where our dumpster resides."
But now, months later, NCOBS is ready to start repairing its base. With the help of 20 volunteers, many of them former staff, the Everglades City Base Camp will undergo a series of repairs from January 20-28, 2018.
"It has been really cool to see this organization take hold and this work week come together," said Porter. "The volunteers pretty much organized themselves."
With six different teams of volunteers, including many people with construction experience, the teams will restore walls, staircases, decks, and docks.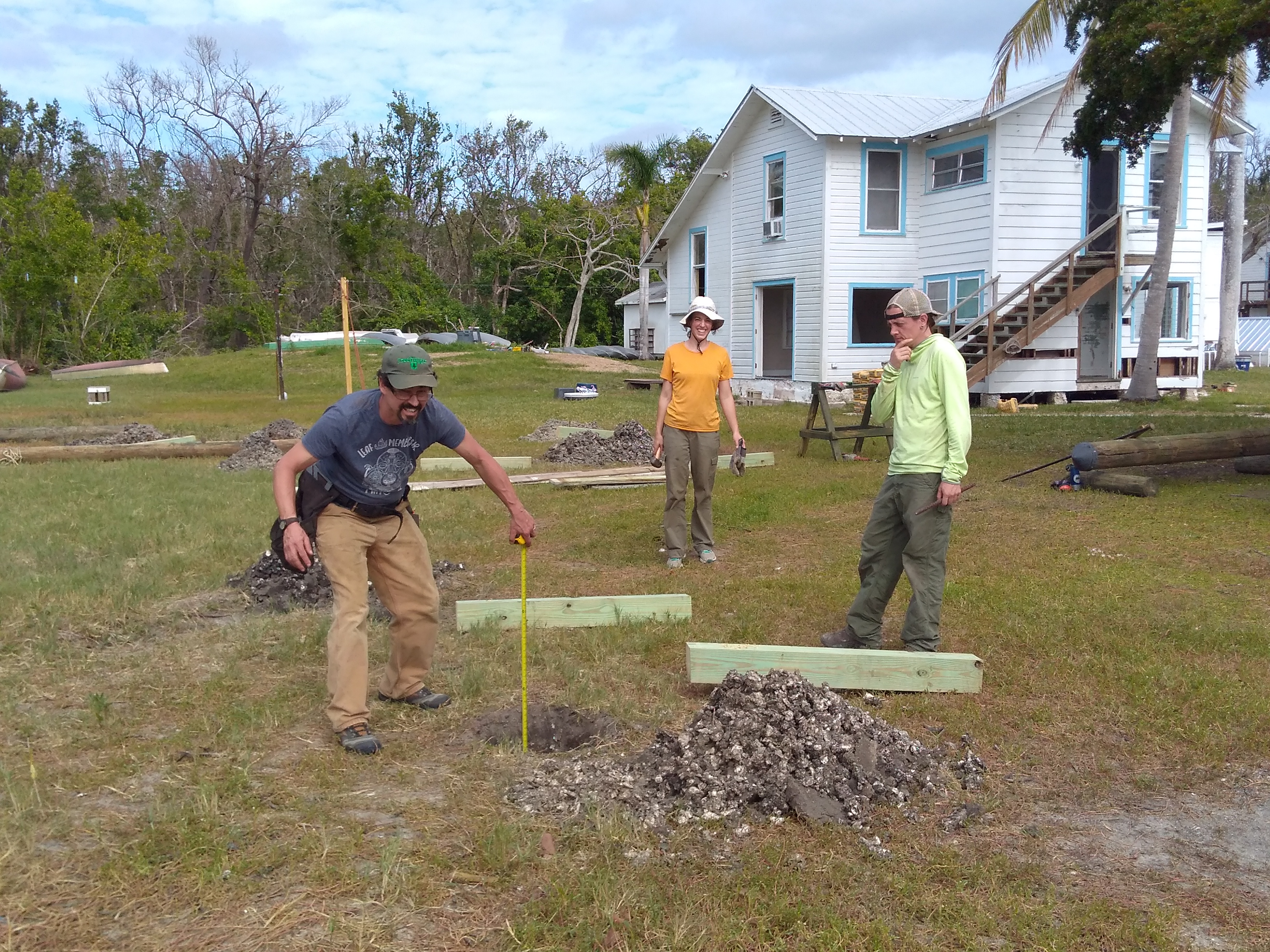 As the Schools community works to mend the physical damage, the emotional toll is also evident.
"We don't have a consistent recovery team working here full-time," Porter says. "Instead we have waves of great volunteers who are mostly former staff, willing to put in the work and lend a hand. However, with each new wave comes the shock and heartbreak of seeing their former home in such a state. For me though, I saw it right after the storm hit, and everyday I think 'man, it is looking better and better,' but for them it's the first time they are seeing the damage and it's really hard."
The challenges of rebuilding have not slowed NCOBS down however. The 50-year-old organization still kicked off its winter season of programs in the Everglades in December and will serve 488 adults, struggling youth and military veterans in Florida alone that year.
Making those life-changing programs happen, are the 35 Everglades City-based NCOBS employees who are currently displaced as the base undergoes construction.
"Right now we have about four condominiums around town where staff are being really creative about living arrangements. We also had two amazing donors and former staff who have offered up their own homes in the area for our purposes," said Porter. "Overall the staff have been really flexible and understanding. They are just making it work."
A recovery effort of this nature would be impossible without significant funding and, once again, the North Carolina Outward Bound School community came together to meet the challenge. Thanks to generous contributions from dozens of NCOBS alumni, board members and former staff, the school has already raised $183,384 to fuel the recovery. If you would like more information about how you can support the recovery efforts at NCOBS Everglades City Base Camp, please visit, https://www.ncobs.org/sunset-island-recovery/.
> View Photos of Volunteers at Work