MAKING A DIFFERENCE
---
Since 2011, North Carolina Outward Bound School (NCOBS) has partnered with faculty from Montreat College and Western Carolina University to gain a better understanding of the impact of NCOBS programs on our students.
In 2017, Drs. Andrew Bobilya and Brad Faircloth collected and analyzed pre- and post-course surveys from students who attended NCOBS wilderness programs in 2016.
QUALITATIVE RESULTS
Results from the qualitative analysis of post-course surveys strongly support the impact of NCOBS programs on character development.
The study confirms that positive character development occurs when students are given the opportunity to strive—to push themselves harder than they ever thought possible, to confront difficulty, and to overcome it.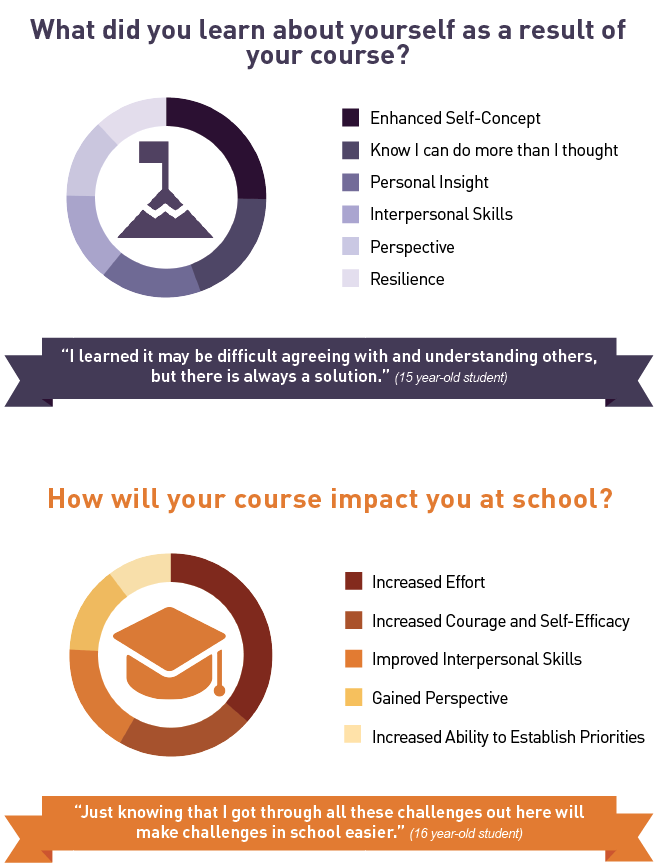 QUANTITATIVE RESULTS
Capturing pre- as well as post-course surveys provided a baseline from which to measure change. Using this quantitative data, Bobilya and Faircloth concluded that all NCOBS participants reported improvements in leadership, character development, and environmental awareness.
WHY IS IT IMPORTANT?
Three-quarters of a century after Kurt Hahn founded the first Outward Bound School at Aberdovey, Wales, his philosophy of education still resonates with the needs of the times. As researchers increasingly link non-cognitive skills to success in education and the workplace, Outward Bound's impact is as important as ever. The resurgence of character education in schools across the country—as they seek to develop resilience, tenacity, and grit as keys to student success—echoes Hahn's legacy. These very qualities form the bedrock of every NCOBS course and the lasting lessons for our alumni.