Safety & Risk Management
---
From city parks to the most remote wild spaces, over 1 million students have participated in Outward Bound programs.
For nearly 60 years, through a variety of activities and environments, Outward Bound has worked diligently to achieve and maintain its position as a leader in outdoor education.
Risk and uncertainty are central to adventure and personal growth. In a supportive environment with Instructors and crewmates, students are encouraged to take part in activities that involve unfamiliar challenges, like group work initiatives, navigating a route by foot or by canoe, rock climbing or summiting a mountain.There is inherent risk that cannot be removed or fully controlled in outdoor environments and activities. Risks such as hazardous weather, wildlife, difficult terrain, remoteness from outside help, etc., will inevitably lead to occasional injuries and illnesses. But these same activities and environments provide valuable challenges.These challenges – physical, interpersonal, emotional - present opportunities for students to develop their judgment, push boundaries, uncover new potential, and build self-confidence. By embracing this philosophy, Outward Bound is committed to systematically identifying, assessing and mitigating hazards, while at the same time providing real challenges to our students.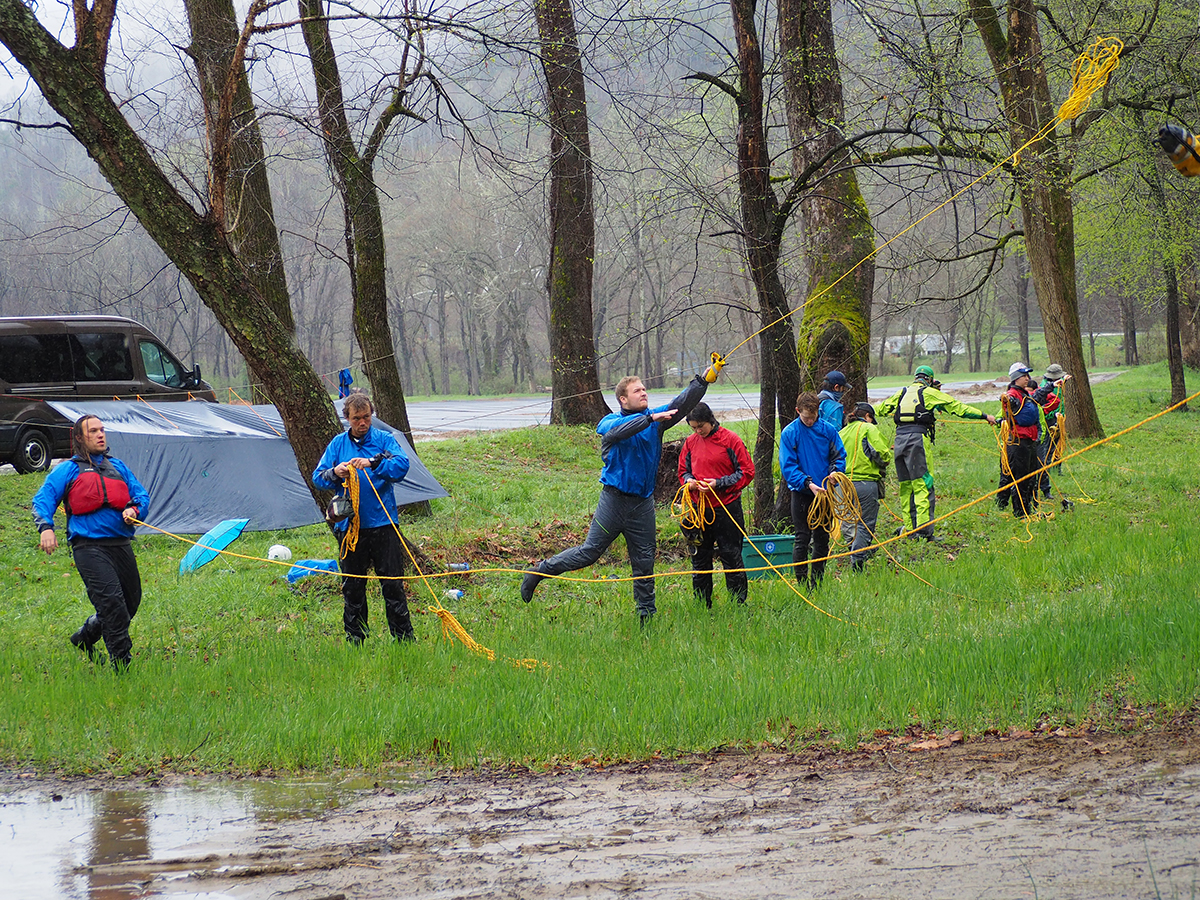 OUR COMMITMENT TO EMOTIONAL & PHYSICAL SAFETY
The physical, emotional, and psychological safety of students and staff is a foundational priority for Outward Bound. We aspire to always conduct our programs safely, whatever the activity, environment or student population. Our attention on safety is central to who we are.
Outward Bound USA is comprised of eleven Schools that serve over 40,000 students each year on courses of 1 to 85 days in length. Our success is the result of a culture that emphasizes transparency, information sharing, collaborative problem solving, and candid discussions. Our organization maintains a safety management system that incorporates every level of the organization, from School Boards and leaders to Instructors, students and partners. Our safety management system is built on five principles.
1. Instructor Training & Development
Outward Bound Instructors receive regular training in the outdoor activities and environments in which we run our courses. New Instructors receive extensive training in teaching and facilitation, risk management, judgment, decision making and conflict resolution. After completing initial training, all Instructors work for a period during which they are directly supervised by experienced staff before being promoted to a Lead Instructor position. Lead Instructors receive ongoing training and development annually.

Additionally, all Instructors must meet rigorous minimum technical requirements.

Instructors who lead longer expeditions initially receive 150+ hours of training and hold navigation, campcraft, and emergency management qualifications. These staff are coached and mentored for a period of between 70 and 150 days in the field (usually over two or three seasons) before being promoted to a Lead Instructor position, and then receive 50+ hours of ongoing training annually.
Instructors who teach climbing, canyoneering, mountaineering, canoeing, rafting, sea kayaking are trained and assessed according to an industry leading, specific in-house standard that draws from American Canoe Association (ACA) and Swiftwater rescue standards, and American Mountain Guides Association (AMGA) standards
Instructors who lead sailing courses hold Lifeguard or Emergency Water Safety certifications and a US Coast Guards Captain's License
First-Aid & Wilderness Medicine Certification
All Instructors have cardiopulmonary resuscitation (CPR) and first aid certifications. Instructors who teach overnight courses are required to hold a Wilderness First Responder (WFR) certification; and some hold additional certifications related to other work experience as emergency medical technicians (EMTs), ski patrollers or mountain rescue team members.
Program Support
The design, quality and safety of each Outward Bound course is the responsibility of a team of staff. Supporting our Instructors are Course Directors and Logistics Coordinators assigned to each course, and program supervisors who oversee all operations and provide 24-hour emergency response. These staff have access to medical and mental health advisors for consultation, as required.
2. Student Preparation & Participation
Managing risk at Outward Bound goes beyond the responsibilities of our Instructors and support staff. Rather, our educational objective is to include students in the safety management process and teach students that psychological safety is paramount, preparation is key, and increasing challenge also demands heightened awareness, discretion and training. These processes begins when a student selects and enrollment begins for a course. Eligibility Criteria for Wilderness-Based Courses
Admissions
All Outward Bound Schools have a dedicated student services and admissions team to support individuals or intact groups in preparing for an Outward Bound course. These staff guide individual students and parents in selecting the right course and can partner with intact groups to design a course that fits their needs. Admissions staff work tirelessly advising students and groups and use carefully designed pre-course materials that facilitate a successful course experience. Based on specific course curriculum, admissions staff educate students on the course environment, the challenge of new skills, and the need to contribute to a positive group culture.
Student Preparation
The student admissions and enrollment process is designed to inform individuals and groups on what to expect, what will be required, and how to prepare for an Outward Bound course. Student resources can include:
Course descriptions and preparation materials (e.g., course itineraries, gear and equipment list) designed to get students ready for their course
Interviews and/or opportunities to ask questions of School admissions staff
A Student Agreement or Commitment to Excellence that summarizes the expectations Outward Bound has of students and students will have of each other
A health history review that gathers critical information and allows for students and Outward Bound staff to plan for student medical and mental health needs
Participatory Risk Management Curriculum
Outward Bound students are part of the safety management system on course. While no expertise is assumed and no experience is required, students are expected to follow instructions, build a positive learning environment for each other, and progressively learn new skills. Courses begin with a welcome from Instructors that introduces key safety concepts and a gear and equipment check to establish that each student has what they need. All new activities begin with a briefing that includes identification of hazards and safety directions. On longer courses, as students' understanding of safety management grows, Instructors will transfer more of the responsibility for risk assessment, mitigation and decision making to the group.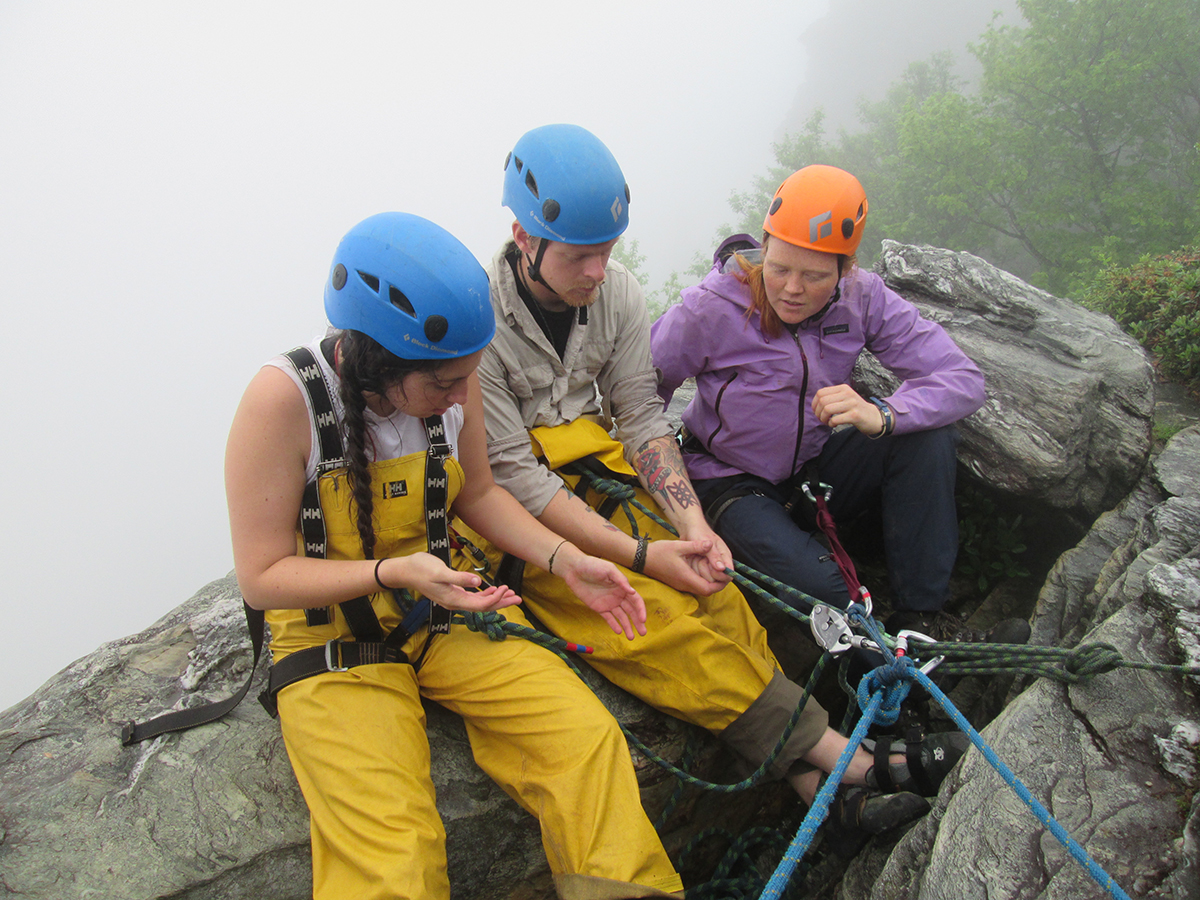 3. Emergency Planning & Preparation
All Outward Bound locations have emergency policies, emergency response plans, and run annual drills of their emergency systems. Staff receive regular training and updates in emergency communications and use of emergency equipment. Although focus is placed on anticipation and prevention, the real risks encountered on our programs necessitate preparation for flexible response to a wide variety of unexpected events.
Student Supervision
On all courses, Outward Bound adheres to pre-determined staff-to-student ratios as dictated by the course environment and activities. On longer expeditions, we maintain a high ratio (approximately 1:6) throughout the course as Instructors demonstrate, coach and observe the students as they learn the skills necessary to progressively gain independence. There will be times when students are not directly supervised, such as when eating, sleeping, time in camp, solo activity, or traveling on Final Expedition. At such times, the Instructors will be nearby, and the students will be able to ask questions or get help if needed. Our supervision policies are based on our experience that well-trained teenagers and adults alike make good decisions with or without direct Instructor supervision.
Field Communication
Each course carries a cell or satellite phone for emergency communication. However, coverage in remote course areas is sometimes limited, and there is no guarantee that an electronic device will work at any given time from any given location. Staff are trained to use field communication technology and also to be self-reliant for periods when required.
Emergency Support & Management
Outward Bound has carefully selected equipment and created robust and flexible systems to provide students with first aid or evacuation to a medical facility in the event of an injury or illness. Staff receive training and updates on treating minor conditions on course and assessing and stabilizing more serious issues for evacuation. The remote setting for many of our longer courses means that evacuation may take a few hours to a day or longer. Staff are trained to respond with the understanding that location, terrain or weather may make rapid evacuation impossible. All international courses are supported by a professional health and security services firm, On Call International.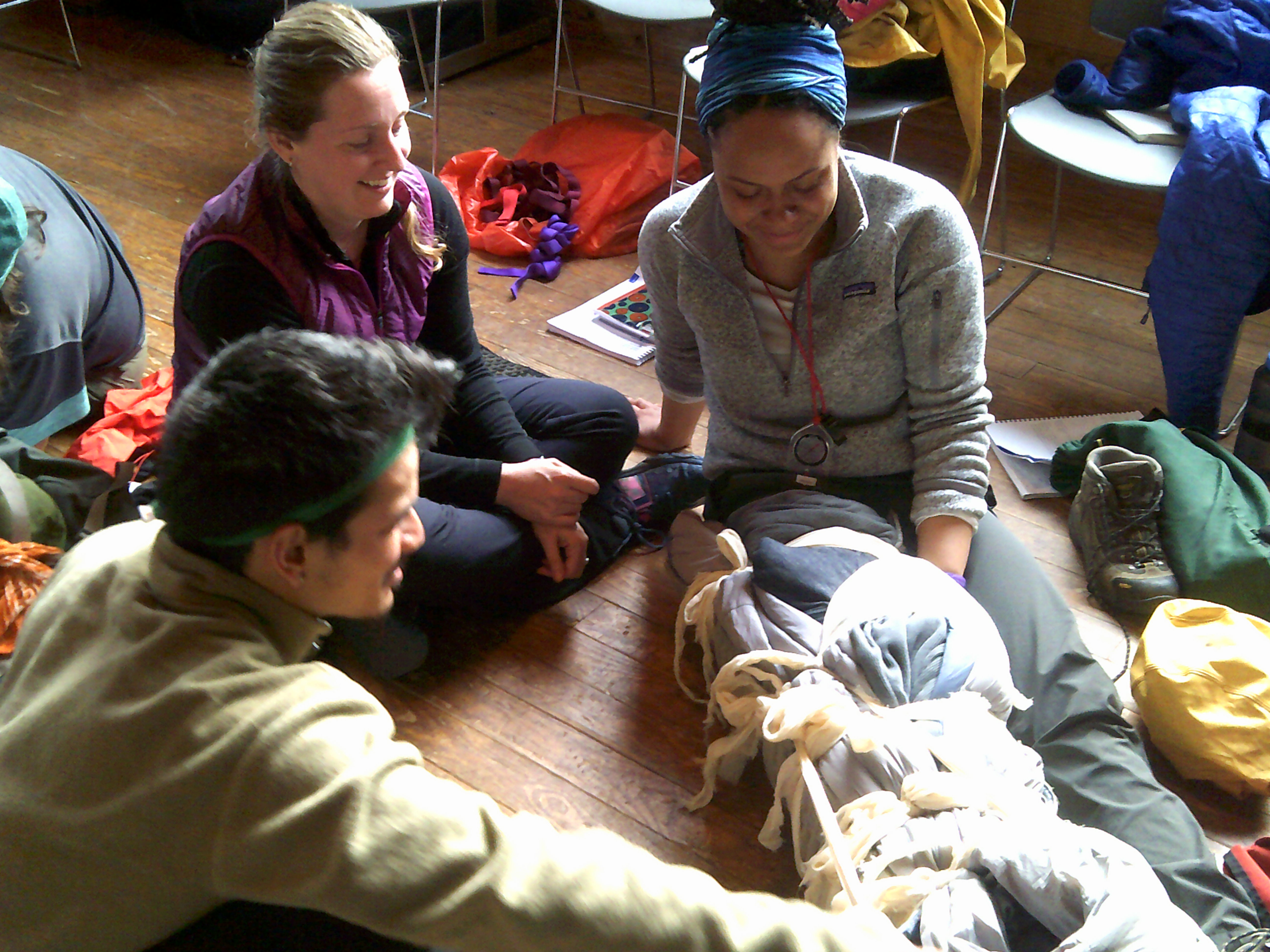 4. Program Review & Continuous Improvement
Outward Bound is committed to continuously and critically reviewing operations with a focus on learning and improving. We have several standard review processes that drive continuous improvement, including post course debriefs, staff performance and course evaluations, routine safety reviews, regular equipment inspections and student outcome data.
Incident Reporting & Investigation
Outward Bound has a uniform process for identifying, analyzing and documenting interesting events, close calls, individual incidents of concern, system-wide trends, expectations for incident follow-up, and for conducting investigations with the goal of improving our operations and minimizing future incidents. Read more about Outward Bound USA's approach to risk and risk management statistics.
National Program Audits
Schools participate in audits on a regular schedule to measure compliance with Outward Bound national standards and policies and to identify areas for future improvement efforts. National program audits are conducted by the OBUSA Risk and Safety Department and overseen by local and national Board Safety Committees.
Wilderness Risk Management Conference
The Wilderness Risk Management Conference is an annual conference held in North America where the objective is to offer an outstanding educational experience to help attendees to mitigate the risks inherent in exploring, working, teaching, and recreating in wild places. We are heavily involved in the conference as one of 3 partner organizations and a core contributor to the conference Steering Committee. Outward Bound USA Director of Risk & Safety, Mike Pigg, was elected the Conference Steering Committee Chair from 2019 – 2022. Outward Bound is committed to being an active participant at this conference, sharing common practices in risk management and leaning from outdoor industry professionals.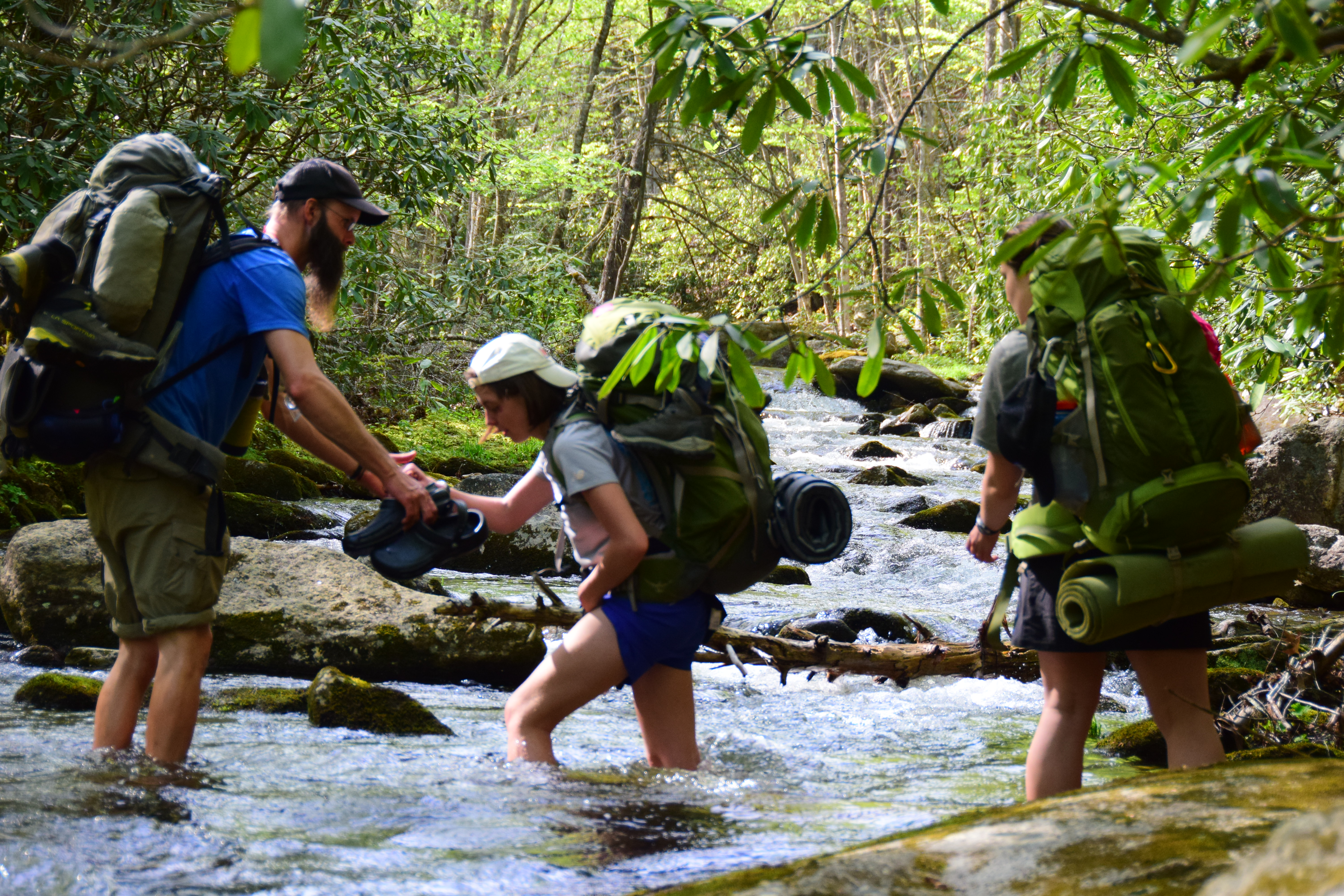 5. Governance & Oversight
Risk is essential to the nature of Outward Bound and our educational mission, and risk management requires alignment on what is an appropriate level of risk to ensure participants are able to fully participate in appropriately challenging activities. Safety governance serves as the foundation of our safety management framework and ensures our Boards and senior leadership have a significant role in setting our approach to risk and are responsible for monitoring, assessing, and optimizing our safety performance.
Safety Committee of the Board
The Safety Committee of the OBUSA Board oversees safety culture and safety management of Outward Bound in the US. Comprised of members with diverse professional expertise, this group supports and challenges management to ensure an appropriate balance in risk is maintained, while monitoring current and emerging risks to the organization. In addition, regional Outward Bound Schools maintain active Board Safety committees to serve the same purpose locally.
OBUSA Risk & Safety Department
The OBUSA Risk and Safety Department leads safety and risk management operations for Outward Bound in the USA. The Department oversees the development of and compliance with Outward Bound national standards. Current and emerging risks inform the Department's focus, as well as program audits, incident data, information from industry partners, legal and medical professionals, and senior Outward Bound staff across the country.
Outward Bound International
Outward Bound USA is part of an international network of 38 Schools spread over 35 countries. Outward Bound is managed globally by Outward Bound International, who regularly reviews our safety management systems against rigorous licensing standards.