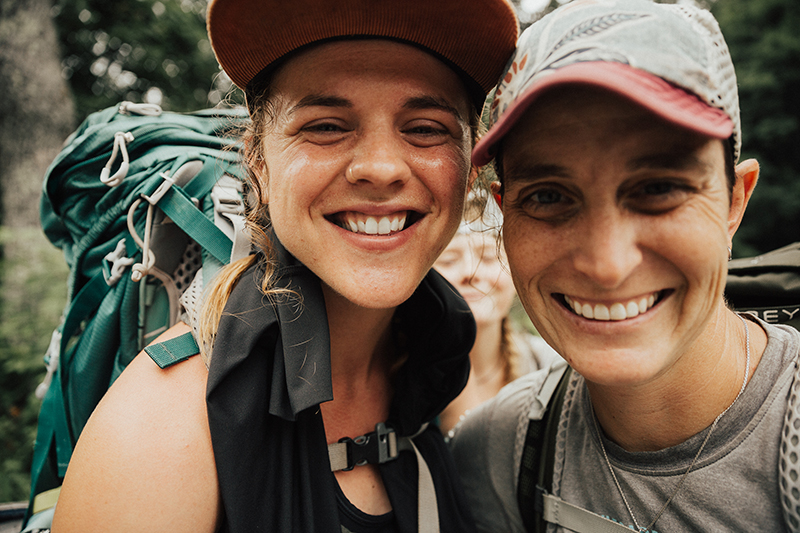 Written by Margo Nottoli
"Unwilling to let the founding vision become routine, those who continued to build the North Carolina Outward Bound School —from trustees to administrators to course directors to instructors—seem to have entered into a secret pact with one another. Although it has never been recorded, they seem to have whispered around the embers, or beneath swishing trees, or beside tumbling waters: We must leave room for the original exuberance, the bold yearning that gave birth to this School."
From Beyond Time and Place, An essay in honor of NCOBS' 20th Anniversary, By Thomas James, Ph.D, NCOBS Board Member 2003-2019
The history of NCOBS continues to be written by passionate leaders who yearn for a better world. Decade after decade, women and men—who notably share in this quality of "original exuberance" for Outward Bound—propel us forward. Bea Armstrong, who embodies this spirit, serves as our new executive director. Armstrong also holds the distinction of being the first female in this position in the history of the School.
---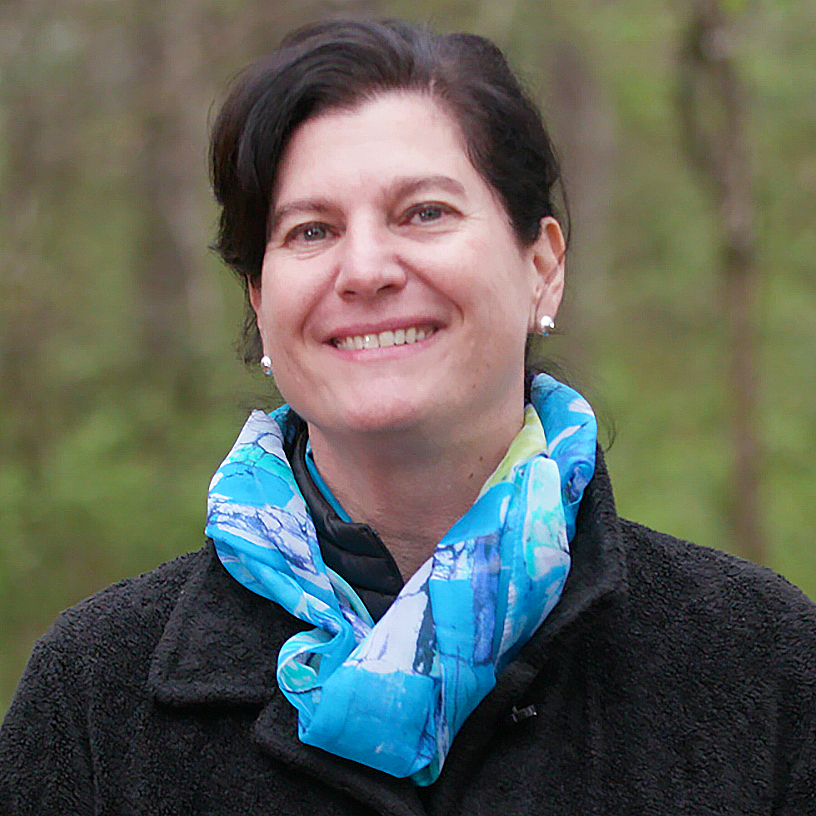 "I am honored and humbled to be the School's first female director. As a lifelong learner, educator, and adventurer, the mission and values of Outward Bound have played a significant role in my life for almost 30 years. My career began at Pacific Crest Outward Bound and it is deeply meaningful to serve Outward Bound once again. As a student, instructor, administrative staff, consultant, donor, and volunteer, I have witnessed the power of Outward Bound first-hand, changing lives through challenge and discovery. The women whose stories follow are extraordinary examples of commitment to this mission. It is a privilege to build upon their legacy."
Bea Armstrong, NCOBS Executive Director
---
In commemorating this leadership milestone, we celebrate a few of the remarkable women of NCOBS who have indelibly shaped the history of the School. We start with our founder, Marjorie Buckley, who continues to inspire us and help guide us forward today.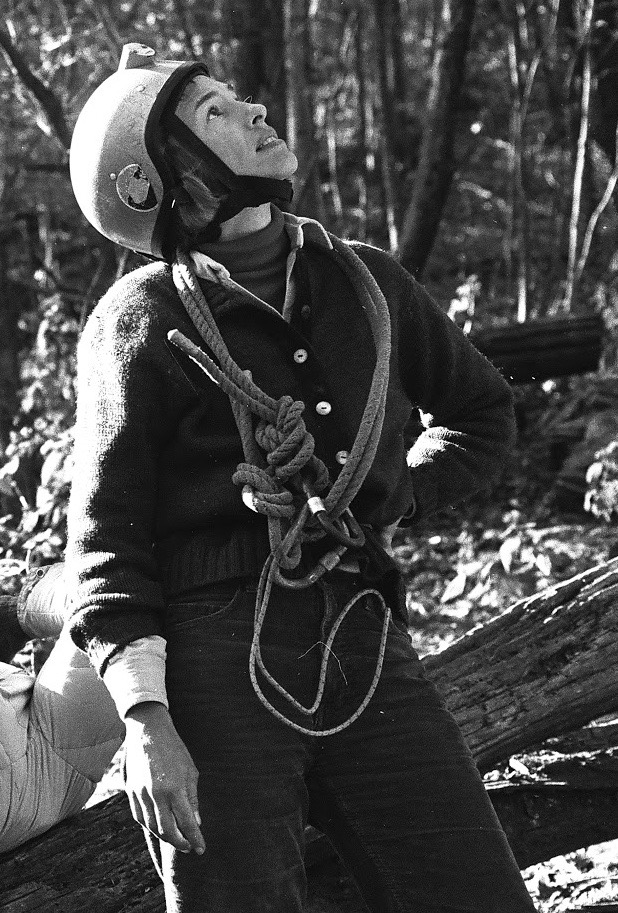 Marjorie Bryan (Calloway) Buckley was introduced to Outward Bound in 1964 through her work with the North Carolina Fund. After meeting with the first all-girls crew at Minnesota Outward Bound and then with representatives from the Colorado and Minnesota schools, she quickly became the driving force for Outward Bound in North Carolina. By 1966, possessed by irrepressible "exuberance," Buckley received charter approval from Outward Bound USA, recruited distinguished North Carolinians to serve on its first board of directors, and helped to secure 501(c)3 status for North Carolina Outward Bound School. Soon after this, she selected the site for the Table Rock Base Camp, secured a lease of the property from the US Forest Service, and then helped to recruit many of the initial field and admin staff. Remarkably, these were just the start of decades of mission-rich initiatives, spearheaded by Buckley, that continue to this day.
We are compelled now—by Marjorie Buckley's leadership, the appointment of NCOBS' first female executive director, and the legacies of these remarkable women—to work as vigorously as ever to deliver our mission to change lives through challenge and discovery. We honor the women of NCOBS in this first telling of their story for their vision, action, and enduring belief in Outward Bound's power to change the world, a student at a time.
---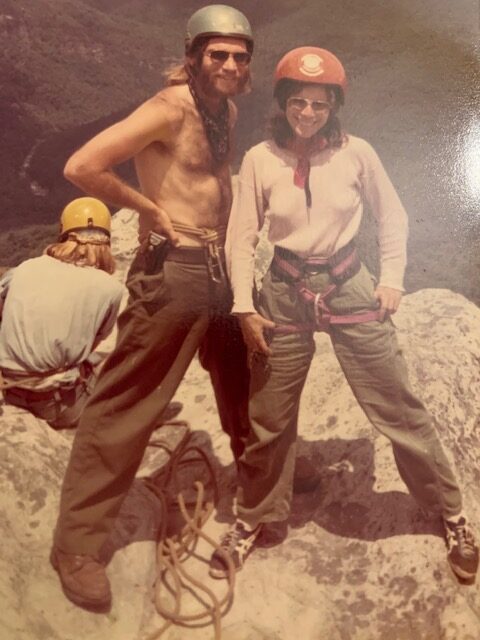 Arlene Ustin, 1971-1978, Program Specialist, Course Director
"In December 1971, NCOBS Director Dan Meyer made me the first woman to hold a permanent program position in Outward Bound—NCOBS program specialist and course director. I wrote the first Instructors Manual, compiled the first field-ready Book of Readings, revised the field foods program, expanded the service component, and directed and instructed every course until the summer staff arrived for the 1972 season. Perhaps my biggest contribution was shifting instructors' attitudes from a militaristic and stoic approach to a student-centered experience. This was evolutionary for our purpose as effective wilderness educators. I was uncompromising in ensuring that the best opportunities possible for each student to come to some meaningful realization was in the forefront of an NCOBS instructor's mind."
---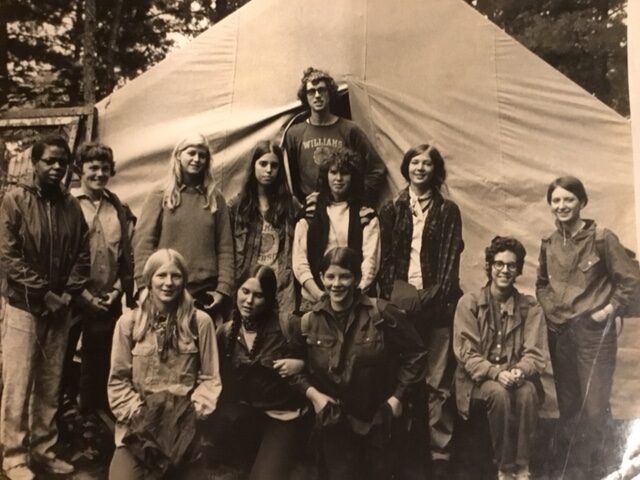 Beth Horrell, 1971, First All-Girls Course Alum; 1972-1977, Instructor, Base Camp Staff
"I was 17, between junior and senior year of high school. Outward Bound changed my life for sure. It was a different experience for me to be part of an all-female crew. It gave me confidence that we could do anything that boys could do, maybe not always in the same ways, but together we got things done. My crew members were from all over the country. NCOBS gave me a strong sense of appreciation for other people and a sense of leadership ability in myself. My instructors encouraged me to apply to work at the school, which I did, and I served as an assistant instructor the next summer. I was barely 18 and missed my high school graduation to be at staff training!"
---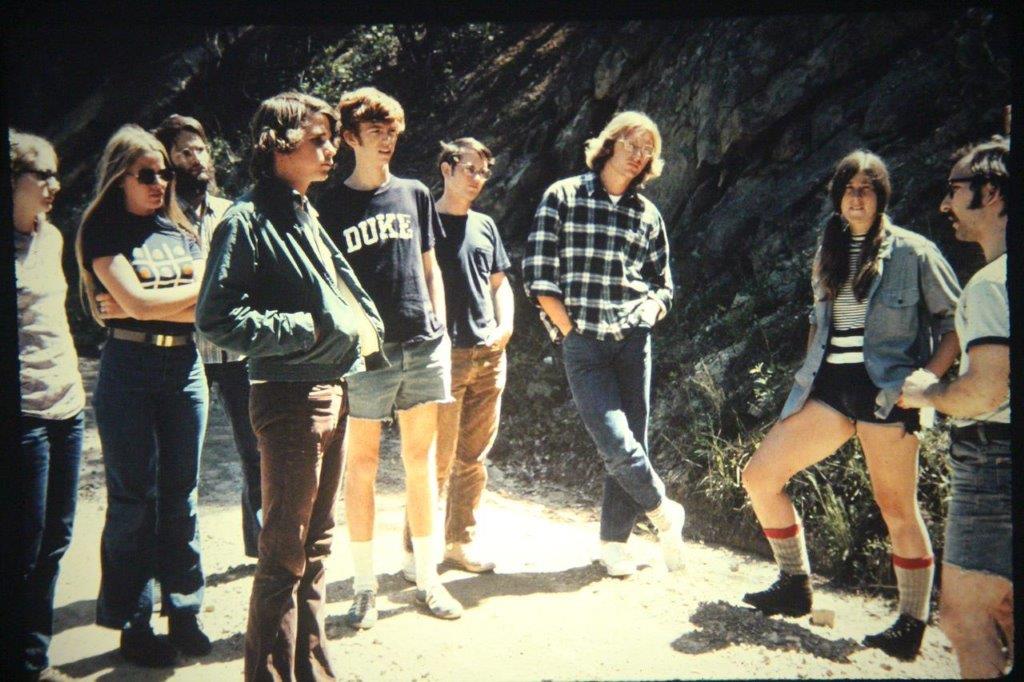 Nettie White, 1972-1973, 1976, Instructor
"I have always felt that Outward Bound did more for me than I was able to return to the School. In my third course, I was assigned to be a co-instructor for a group of 16 and 17-year-old girls. It was the best course ever. We knew this was a "first," and certainly, there were more hugs and tears than in any other of my courses before or since!"
---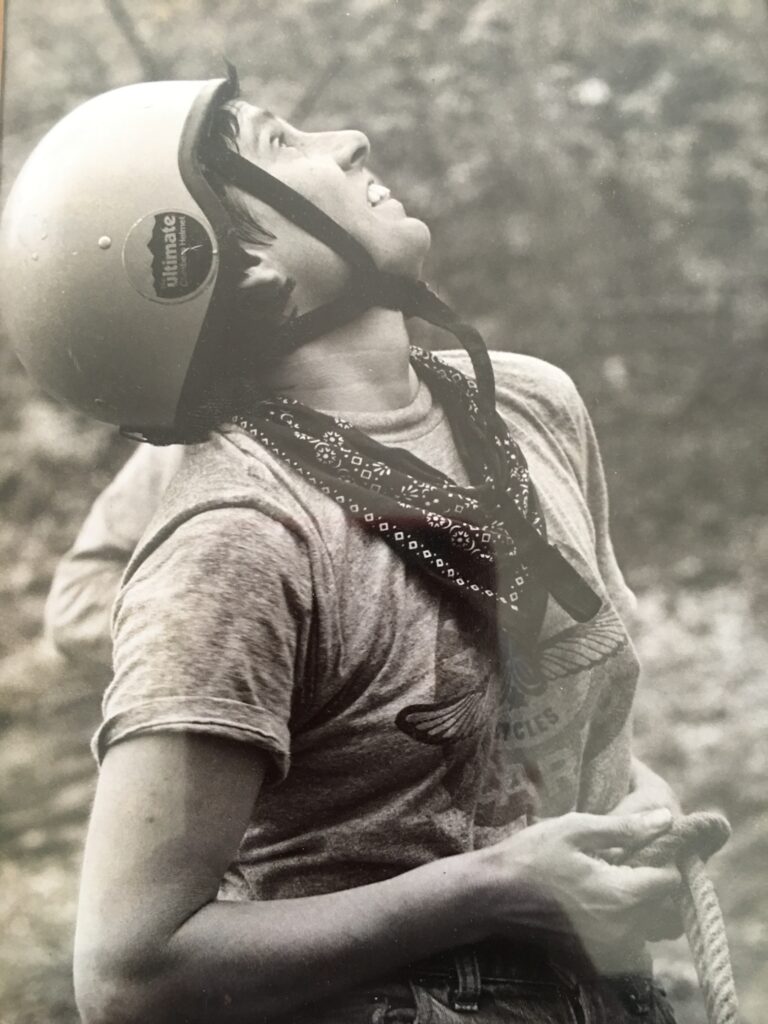 Rhea Cooper,1986-2018, Admin Staff
"I attended NCOBS' 1977 Women Over 30 course—the first one of its kind—and, well, it changed my life. I had always been active in the out-of-doors and was ready for the physical part of the course but did not know how much I would get from the reflection…how much confidence I would get from what we did."
---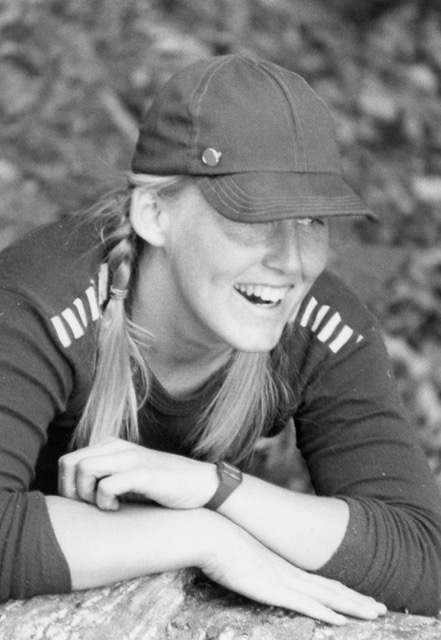 Deb Caughron, 1982-1994, Logistics Chief, Instructor, Course Director, Invitational Programs Director; 1999-2022, Board Member, Board Chair, 50th Anniversary Campaign Manager, Consultant
"I began my tenure at NCOBS in logistics—work that provides the foundation for everything we do as a school—and I am fortunate to have had that opportunity. At each juncture, from 1982 to the present—I have felt the challenge, fear, discovery, and personal growth our students experience every day in the field. Regardless of the role, my goal has always been to help our school facilitate that growth in others. And today, 40 years on, I still profoundly believe in the power of Outward Bound to change the world, one person at a time. I will always be grateful for that gift."
---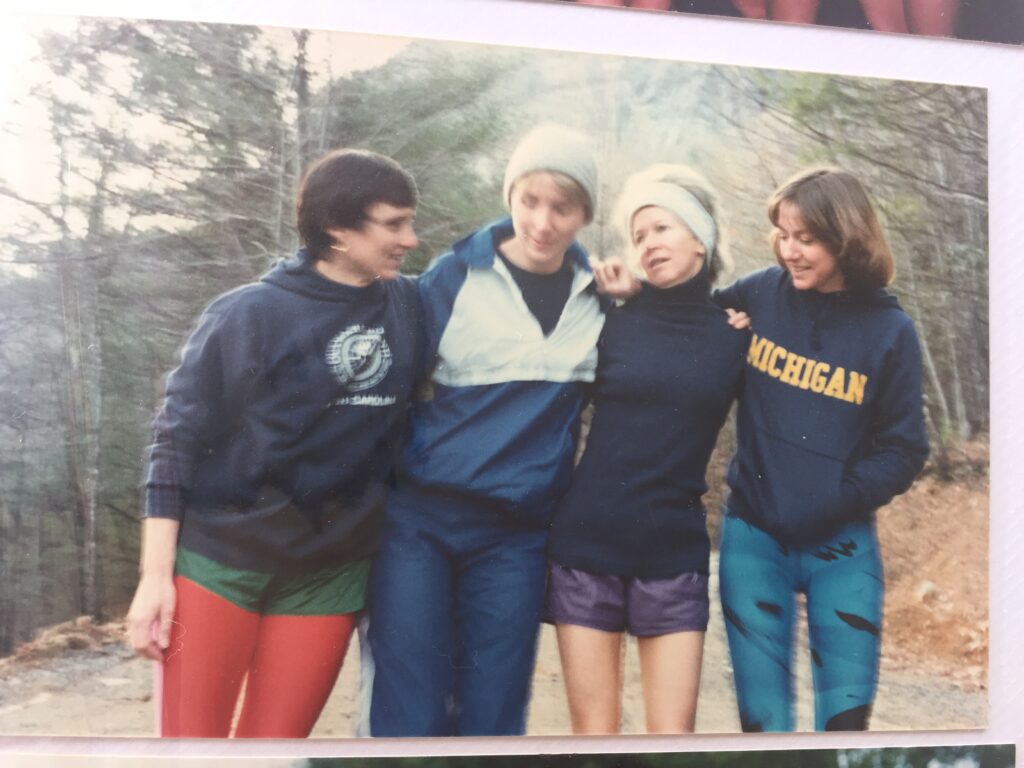 Margaret Baxter, 1976-1978, Instructor; 1987-1997, Associate Program Director, Associate School Director, Interim School Director
"When I returned to NCOBS in 1987, after nearly a decade in the corporate world, the School was at an inflection point. I brought my diverse background, leadership style, and energy to focus on guiding NCOBS—its field staff, board members, "home folk," town office staff, and site staff—to raise the level of management to be commensurate with the complex business it had become. And, MOST importantly, to develop an organization managed sustainably. I am so glad NCOBS continues to leave its footprints upon the lives of so many."
---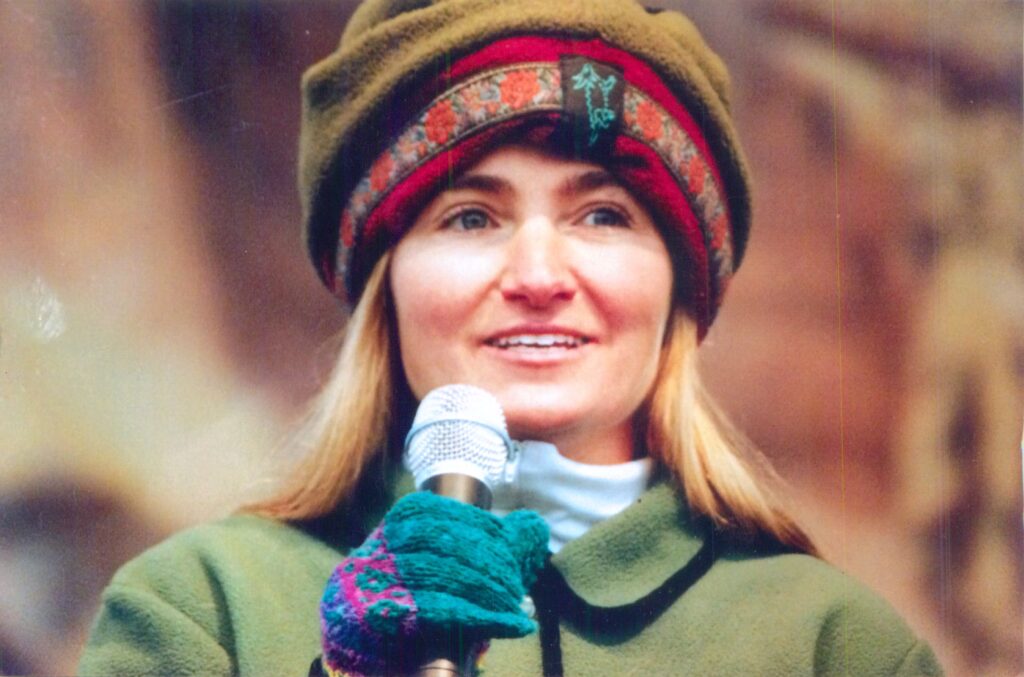 Robyn Read Gaddy, 1991-2001, Instructor, Course Director, Green Cove Manager, Co-Creator of 1st Outward Bound Women's Conference, Interim Staffing Director, Founder for NCOBS' Girls On The Move
"I began my OB career out west wearing pink shorts, curled eyelashes, and painted toes. In 1989, female instructors did not look like this. If a woman were to secure a coveted instructor spot, the more male, the more welcome. And painted toes just brushed the surface. It wasn't until my tenure with NCOBS that I found the welcoming option for women to fully be in the strength of their feminine power as an Outward Bound instructor. And it was no wonder, with Marjorie Buckley at the helm!"
---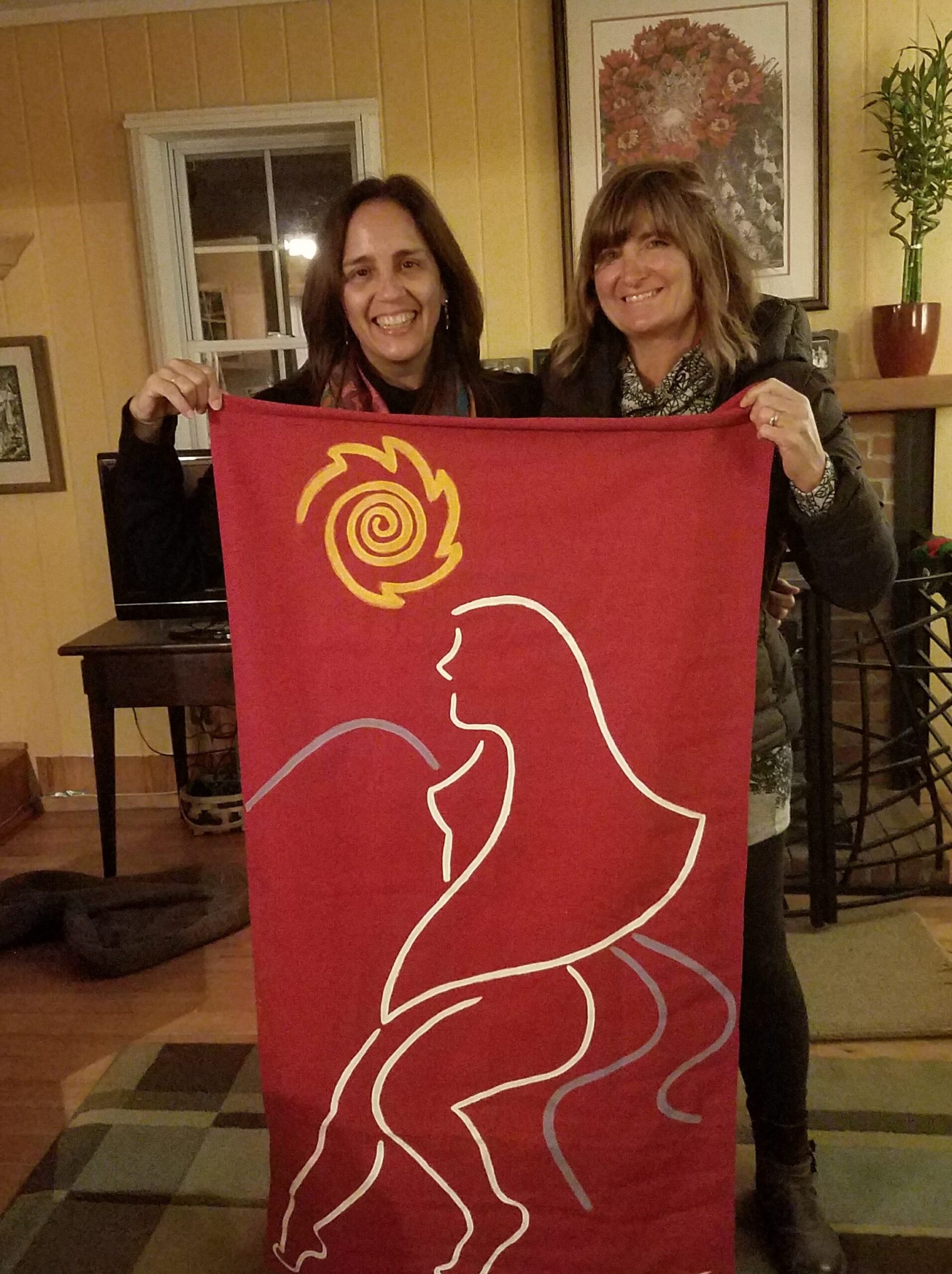 Rosa Verdeja, 1993-1998, Associate Director of Educational Programs, Instructor; 2018-Present, South Florida Advisory Board Member and Board Chair
"NCOBS has become part of my very soul. The values and ways of being taught to us as instructors, and the same ones we pass on to students, remain my compass on this journey of life. Though I work elsewhere now, I still say, 'we, at NCOBS, do this.' And today, with much pride, I join the School's celebration of the first year of our first NCOBS female Executive Director, Bea Armstrong: an exemplary leader and visionary at the helm."
---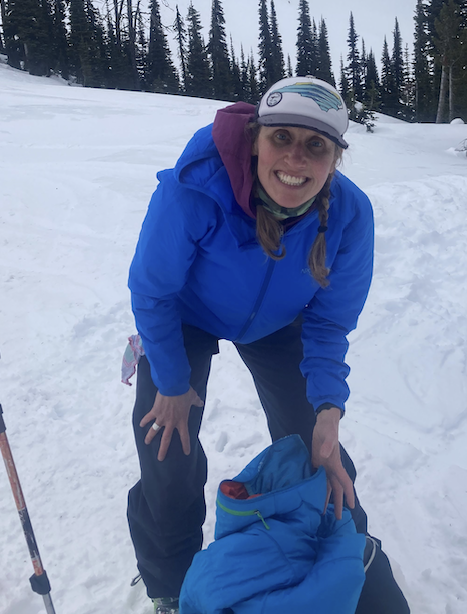 Elizabeth Craig Fricke, 1994-2003, Instructor, Course Director, Climbing Staff
"Working for the North Carolina Outward Bound School paved the direction of my life and, ultimately, my profession. I took a week-long NCOBS course as part of my high school's curriculum and fell in love with it. Then when I was a freshman in college, I interned for NCOBS with Deb Caughron, an amazing female mentor. In 1994, I went back to NCOBS and, for nine years, served as an assistant instructor, lead instructor, course director, climbing staff member, and facilitator for women's rock climbing trainings. I helped create and grow a "women's climbing camp" for female instructors who felt intimidated by the more technical side of climbing. Offered in western NC, WV, TN, Joshua Tree, CA , and Red Rocks, NV, they made a huge difference in raising the competence and confidence of female instructors and helped to increase the number of female climbing instructors hired at NCOBS."
---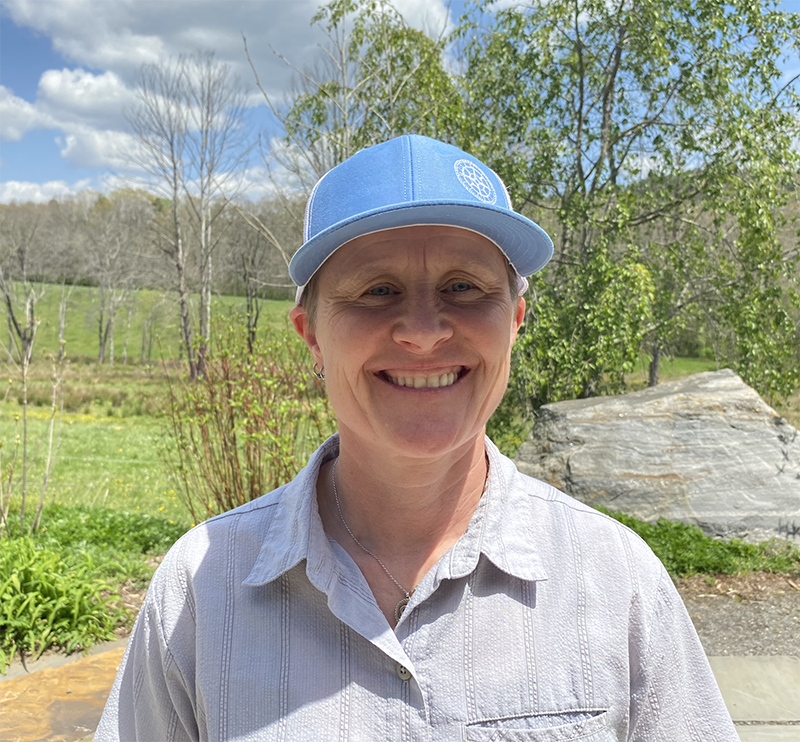 Deb Sweeney Whitmore, 1996-Present, Instructor, River Specialist, Course Director, Associate Program Director, Program Director, Director of Program Operations, recipient of the esteemed Buckley Bearing Award
"I am here to support staff in moments of celebration and challenge as they undertake the delivery of our mission, day in and day out. I provide the structure, process, and protocols to support their program delivery."
---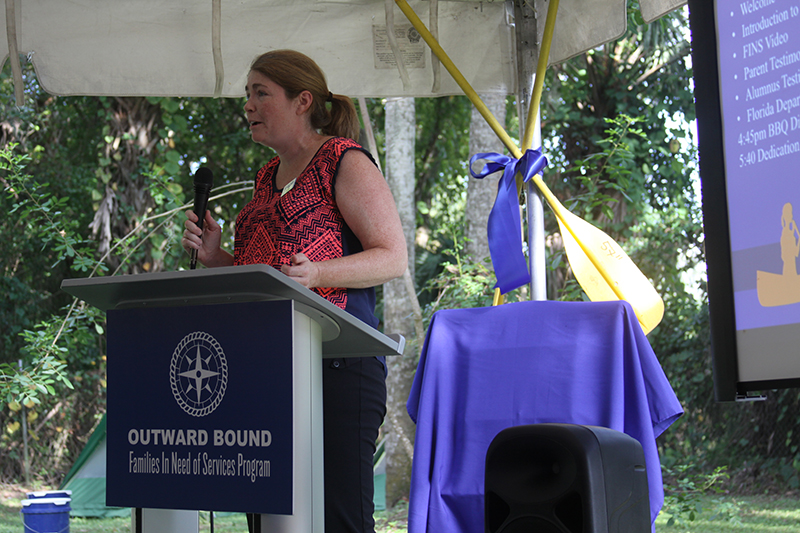 Katie Dalbey, 2004-2017, Instructor, Course Director, Director of At-Risk Programs, FL FINS and Intercept Manager
"When I did my New Staff Training at Table Rock in 2005, I had been instructing in Florida, leading canoeing courses for STEP and FINS programs. After so much time on flat land, I showed up with weak ankles, toes just asking for blisters, and a distaste for the Table Rock course area's steep hills. But I also brought a skill set that NCOBS needed. At a time when early departures for low motivation or behavior issues were common, it was clear I had skills and experience that could benefit the School. My most significant contribution to NCOBS was to expand perceptions of who Outward Bound is for by helping to equip a generation of instructors with a deeper understanding of the needs that drive behavior and how to use structure and tools to support students with varying motivation levels. I value the opportunity now to help the School continue to offer the life-changing courses I experienced as an NCOBS student, instructor, and program leader."
---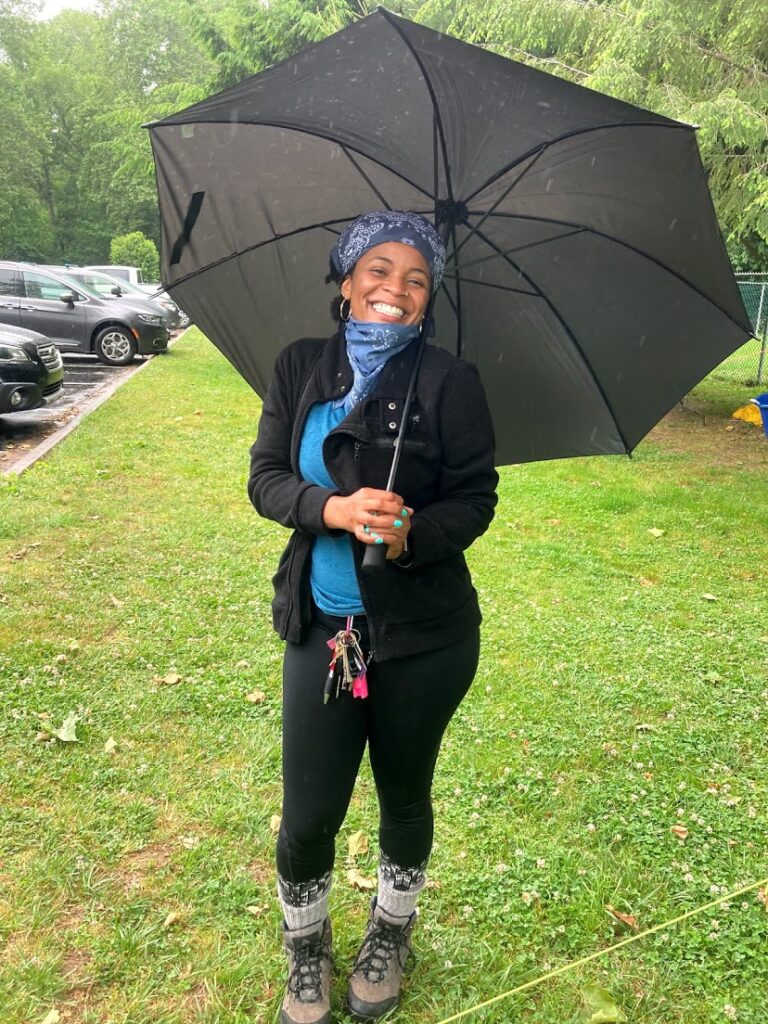 Alexys J. Taylor, 2014-2020, Charlotte Advisory Board; 2020-Present, Charlotte Program Manager
"The Charlotte Unity Project provides an opportunity for Charlotte-Mecklenburg High School students to "disconnect to reconnect." Charlotte Unity builds a bridge for students from various backgrounds to learn about each other and engage in deep and meaningful conversations about local and global injustices while being in an often unfamiliar and sometimes vulnerable setting—the Pisgah National Forest. The Charlotte Unity Project empowers students to initiate social change in their schools and communities. The experiences and lessons I learned on my NCOBS Unity course close to 15 years ago are still with me today."
---
If there really is a secret pact to preserve the School's founding exuberance and bold yearning, NCOBS's current board chair Sonji Jacobs has solemnly sworn to it: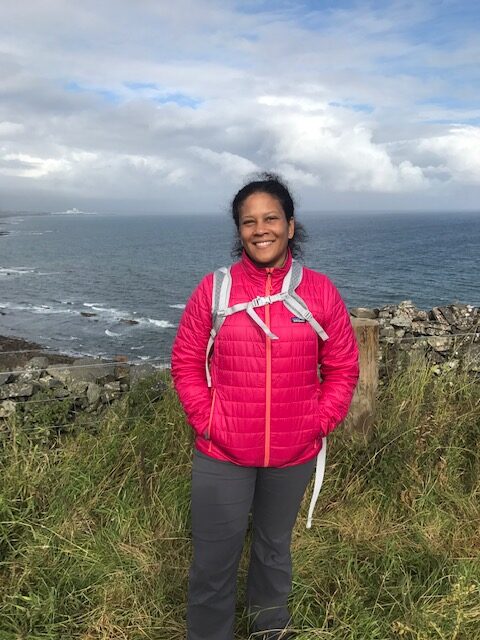 "It is an honor to build upon the legacy of these remarkable women and their spirited commitment to NCOBS. I'm thrilled and humbled to serve as board chair now, alongside our dedicated and committed board members and our new executive director Bea Armstrong. As we celebrate the 55th anniversary of NCOBS, there is much to honor in our history. Yet, at the same time, we have the opportunity, especially as we emerge and rebuild from the COVID-19 pandemic, to redefine how we meet the evolving needs of a new generation of students.
I'm excited about the prospect of breathing new energy into our community and urban programming, creating an even more inclusive and welcoming culture, and continuing to foster the personal growth, friendships, and sense of adventure that inevitably happen at our base camps and in the field. Working with staff, board members, and all of our supporters to ensure we continue providing life-changing experiences motivates and inspires me."
Sonji Jacobs, NCOBS Board Chair
In honor of our first female executive director, we celebrate generations of remarkable women who have uniquely contributed to our School's growth. Bea Armstrong builds upon their legacy daily as she leads us "exuberantly" into NCOBS' next chapter.
---
This is a small sampling of the remarkable women of NCOBS. With apologies to the multitudes omitted, please send stories and tributes to nfava@ncobs.org, and we will share these over time in our blogs and newsletters.