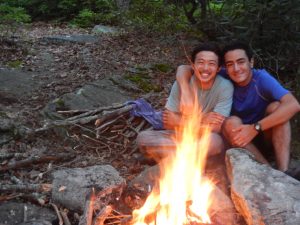 The Charlotte Observer, June 27, 2014
At the very least, spending time in the wilderness helped Anthony Butler develop a new appreciation for his family, his bed and indoor plumbing.
But the Vance High School rising junior is counting on his recent experience at a leadership-building camp to have a greater effect on his life than simply learning the value of his home's amenities.
Butler, an all-conference linebacker, was among six Vance students who attended a North Carolina Outward Bound School session June 12-18 in Asheville. The students hope they can transfer what they learned to their schoolmates next school year to make their school a better place.
The Outward Bound trip is part of a new school initiative called Vance Athletes Unite, in which administrators hope to raise school spirit, pride and harmony through the leadership abilities of their athletes – a valued commodity in the Vance community.
"I want our athletes to be leaders on the campus," said Carlos Richardson, Vance's athletic director and the Dean of Students. "If we can teach them to be community servants on and off the court and field they will be servants elsewhere. I want our athletes to serve."
So far, Vance Athletes Unite is comprised of a select group of student-athletes who represent their  teams. The program will be open to all student-athletes next year.
Vance Athletes Unite will organize community service activities, promote acceptance among the school's diverse population and tackle social issues in the student body. Richardson sees the group re-energizing the Cougar Crazies, Vance's student fan group.
"I feel like school spirit from the school's minorities (whites and Hispanics) has been lacking," said Butler, who is African-American. "One of the things Vance Athletes Unite talked about was having a 'mix-it-up day,' in which you try to get to know someone you don't already know, at lunch time. It will help our school bond."
About five months ago, Richardson asked Vance's coaches to recommend some athletes for the Outward Bound trip. In addition to Butler, senior Tiffany Rodriguez, juniors Joshua White and Johnathan Dunlap and sophomores Jeremiah Hall and Leanna Combo attended.
At the NC Outward Bound School, the Vance students were mixed with students from two other Charlotte high schools: Myers Park and the Performance Learning Center. They camped under tarps and with sleeping bags for six days, without running water, and built up and tore down their campsites on a daily basis.
White is a rising junior outfielder on the Vance varsity baseball team and an officer candidate in the school's Air Force ROTC program. He says he goes camping about three times a year, but that didn't prepare him for the rigors of the Outward Bound experience.
"There were a lot of challenges," he said. "It was rough but rewarding."
Seven- to 8-mile hikes were the highlight each day. The students participated in other team-building activities and kept a daily journal.
"I learned to work hard, accept others' feelings, and learned to be flexible in the face of adversity," said Hall, a sophomore football and basketball player.
To support the efforts of the student-athletes, Richardson and Exceptional Children's teacher and assistant basketball coach Brian Frasier will be attending an Outward Bound trip for adults July 25-Aug. 2.