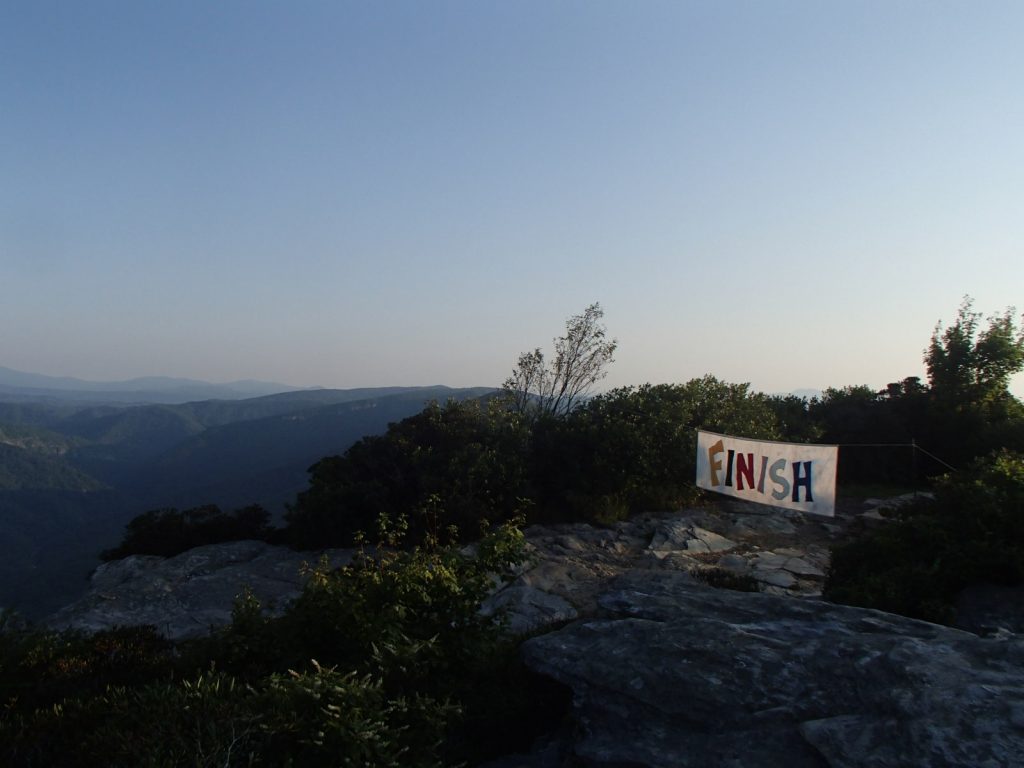 By Annie Jonas, May 7, 2020
Stay at home orders coupled with the end of my semester teaching at a small college meant enough idle time to scroll through Instagram to find Outward Bound's announcement about a Virtual Personal Challenge Event taking place on April 25, 2020. Immediately I was flooded with joy and nostalgia for the Personal Challenge Event (PCE) I experienced as an Outward Bound student in 1987 and then the PCE's for years after as an instructor.
And suddenly, it also offered a jolt of inspiration. Maybe I could convince my Outward Bound friends (who remain some of my best friends to this day) to create a video where we would virtually pass a baton as we join in a community PCE challenge through running, strolling, mountain biking, road biking, or cross-country skiing in our various locales. Those locations include Missoula, Yosemite, Driggs, Tucson, Miami, Bat Cave, and Asheville to name a few. I imagined a video that sparked both the joy and anguish of the PCE's we experienced together in the 80s and 90s.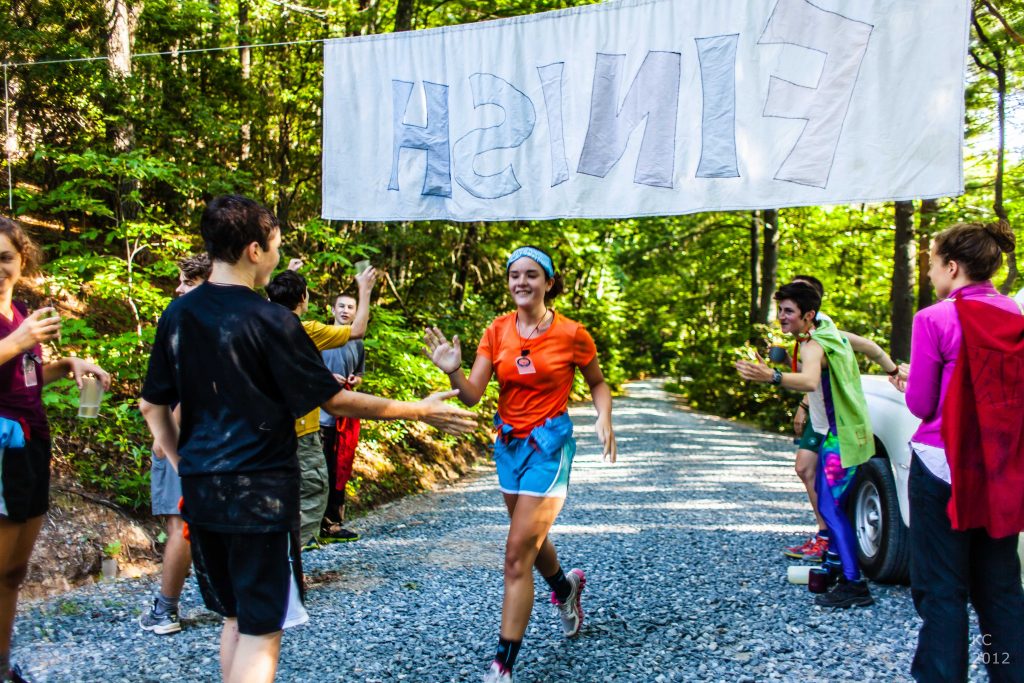 An Outward Bound course is a group challenge. The success of the crew depends on every member doing their part. However, at the end of course, students have the chance to participate in a Personal Challenge Event: an opportunity to see what they can do at their own pace without dependence on the group. PCE's are usually 3-13 mile runs through the mountains, but they are adapted based on the activity and location of the course. How far or how hard can one push themselves? Only the individual can decide and often times they end up surprising even themselves.
As an instructor, the PCE was bittersweet. I was usually completely emotionally and physically drained by this point in the course but I was always buoyed by the tremendous connection I felt with students who had challenged and amazed me with their stories, their struggles, and their commitment during our days and weeks together on the trail. As an instructor, I counted on the ritual of the PCE to offer grounding and familiarity as well as the ever-present opportunity, at Outward Bound, for a physical and mental challenge. It was one more chance to stay present with what was in front of me and to put one foot in front of the other before this particular crew of students disbanded and we all transitioned to our "normal" lives.
Due to COVID-19 and the effects of the "stay at home orders," Outward Bound, like many businesses were forced to pause its courses and instructor trainings, but that didn't stop the PCEs. Instead, North Carolina Outward Bound School challenged everyone to a Virtual Personal Challenge Event. With the event only one day away, I continued to think about the videos my friends would create. The virtual baton would be passed across the distances settling me and encouraging me during this disorienting time. Instead of reaching out to those friends though, my day consisted of sitting next to Gabriel, my 10-year-old, during his pandemic-induced online classes, attending Zoom meetings with my students and colleagues, sorting through overdue tax documents with my partner and making preparations for our 90-year old father-in-law to move in with us.
The next morning, I was stirring pancake batter and again the PCE came front and center into my mind. As I flipped a pancake onto Gabriel's plate, I blurted, "We used to have these challenging events at the end of Outward Bound courses that included running up mountain trails, scrambling through rhododendron forests, crossing streams and basically blowing out any last bit of will and determination that we could muster on the last full day of the course." Gabriel had already heard loads of stories about Outward Bound and also met many of the amazing friends from those days. But this was the first time he'd heard of the PCE. He looked up for a second but then returned to chasing the last bits of pancake into the remaining syrup. I pushed on, "Outward Bound is encouraging people to create their own PCE events today." He slid the plate toward me. "Cool", he mumbled and then paused to swallow the last crumble. Then he looked up and his vision tumbled out: "We could ride our bikes to the local trail, scramble up a water-fall, cross the river and run back to the bikes – with your phone to record it all." I smiled in admiration at his ambition.
Within a half-hour, pancake dishes were stacked in the sink, Java the dog was harnessed and our shoes were laced. A part of me would like to be able to link a video here that documented the waterfall we scrambled up, the trails we blazed, and the accompanying dirt, blood, and tears of this incredible feel-good adventure story. But no video or photograph could embellish what really happened that morning. Just a 2-mile jog along the side of our rural road with periodic pauses to satisfy our sniffing dog and allow for passing cars.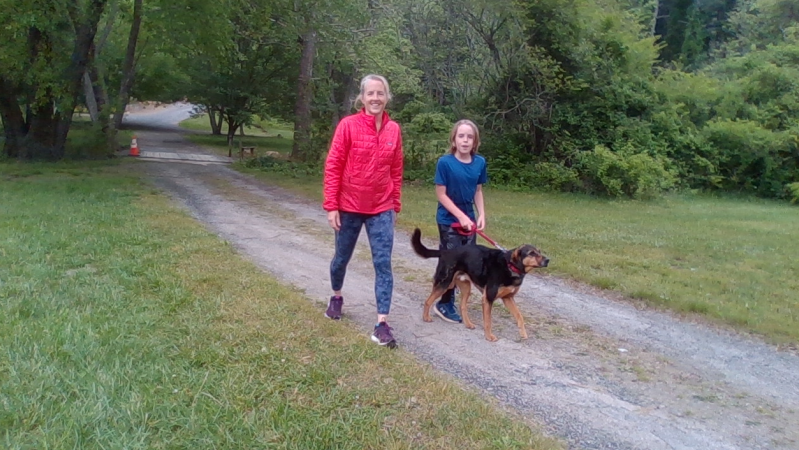 As we ran, I pushed aside the invading thoughts of the last week: Would our family be able to care for and comfort our 90-year-old father in law who is experiencing dementia?, Would Gabriel see his friends any time soon? How will I stay in touch with and care for my aging and disabled Mom from a social distance?, How will my niece (a high school senior) weather this storm? How can I support my father as he grieves his best friend's death without the chance for a funeral any time soon? How can I be of service to my family, my students, my neighbors, and my community at this time?
This is not an adventure story that ends with a cheering crowd and sliced watermelon as the PCE events always did. But the gritty elements of an Outward Bound course and the sheer will and determination it requires are all there. My 2-mile run is the PCE I can muster right now. Framing our morning jog as a PCE offered the grounding and familiarity I desperately craved. The 2020 PCE challenge illuminated what Outward Bound instilled in me and what I most needed to hear: Stay present and put one foot in front of the other.
See other stories from the #ResilientTogetherPCE