By Leigh Luter Schell, April 30, 2020
Junior year of college, one of my housemates spent a semester on an Outward Bound course in Baja, Mexico. She came back hairy, tanned and happy in a confident "let it go" kind of way, no longer caught up in the trivial, needless, sweating the small stuff kinds of things often occupying the minds of college-aged kids. Was I curious about the source of this newly evident inner lightness? A little. Was I happy for her? Of course. Did I also want to go on an outdoor experiential course? Absolutely not.
That was over 30 years ago. In between, I did my own version of backpacking that included a Eurail pass, a calling card for payphones to periodically check in with family, sleeping in hostels and sometimes eating outdoors if you count street food vendors and cheese bread picnics in city parks. That was followed by my own version of camping – driving a salvaged 4WD vehicle through southern Africa and often overnighting at riversides where we could wash ourselves and clothes alongside locals doing the same. So, I could say with hand-to-heart honesty that my life had included backpacking and camping 'roughing it' experiences. The rest of my travel days, as I saw them, would include wheeled suitcases and indoor plumbing. I'm surprised I didn't hear laughter coming from the heavens.
Fast-forward to 2014 when I attended a North Carolina Outward Bound School (NCOBS) fundraising breakfast in Charlotte with my then-boyfriend and NCOBS Board member. He knew I'd served on various non-profit boards and casually mentioned NCOBS was looking to diversify their Charlotte Advisory Board. Attending the breakfast began as a function of supporting something he was passionate about and learning more about an organization far off my radar. I didn't envision my passions syncing with Outward Bound's mission, or vice-versa.
In listening to the presentations at the breakfast, there were several learnings that stood out to me:
The origin of Outward Bound is rooted in training young men for World War II
NCOBS geographic region reaches far outside of North Carolina
NCOBS serves more than just young adults
However, what most impressed me, and remains an "a-ha", lightning-bolt moment, was when a young woman spoke about her experience on a Charlotte Unity Project course. The Unity Project was started by NCOBS in the late 1990s to allow Charlotte area high school students from different backgrounds to go on a weeklong course, on scholarship. Its mission: foster compassion, leadership, self-confidence, and teambuilding between diverse individuals through wilderness experiential lessons that they then take back to their respective schools and communities. The young woman's testimonial shared how life took a very different trajectory because of her Unity experience. And while I saw the outdoor education component as a means to an end, it was the outreach component that hooked me. I wanted to be a part of an organization responsible for THAT kind of impact, as long as I didn't have to go on a course myself.
Flash forward once more to 2019. I'm married to the then-boyfriend, serving on the Charlotte Advisory Board and extolling the virtues of Outward Bound and its Four Pillars: Physical Fitness, Craftsmanship, Self-Reliance, and Compassion. Yet I still felt a bit like a fraud. Yes, I loved the outdoors and yes, I had the experience of wilderness camping and yes, I strived to live attuned with the Four Pillars. But I didn't have the actual Outward Bound experience. And I still didn't want that experience despite the countless people who had shared how transformational Outward Bound had been for them. They used words like cathartic, inspirational, and "fuse-lighting." At my age, I didn't want to try the Kool-Aid if it meant having to turn control over to instructors likely half my age or live with strangers for weeks. Not to mention the whole pooping-in-the-woods thing. But then I was asked to chair the Charlotte Advisory Board. Gulp.
Course participation wasn't required, nor expected, but I knew that in order for me to feel authentic, and therefore effective, as a leader, I would need to have the experience first-hand. The decision to go on course suddenly became more of a when, where, and what. I wanted an NCOBS course, but rock-climbing was out even though I had gone skydiving to overcome a fear of heights (didn't work). Kayaking in the Everglades felt a little too far out of my comfort zone, despite past encounters (or perhaps because of) with hippos and crocodiles in Africa. Patagonia checked all the boxes except for the lengthy time commitment. Then NCOBS announced their 10-Day Patagonia Invitational for early 2020. (Big gulp.)
I dreaded it. But I was also excited to finally experience what everyone was talking about. On course, I learned so much about myself – some good (positive attitude even in hard times) and some not so good (tendency towards selfishness). I was pushed in ways I didn't expect and gained confidence knowing I conquered something I feared – and that I had made the very conscious choice to do so.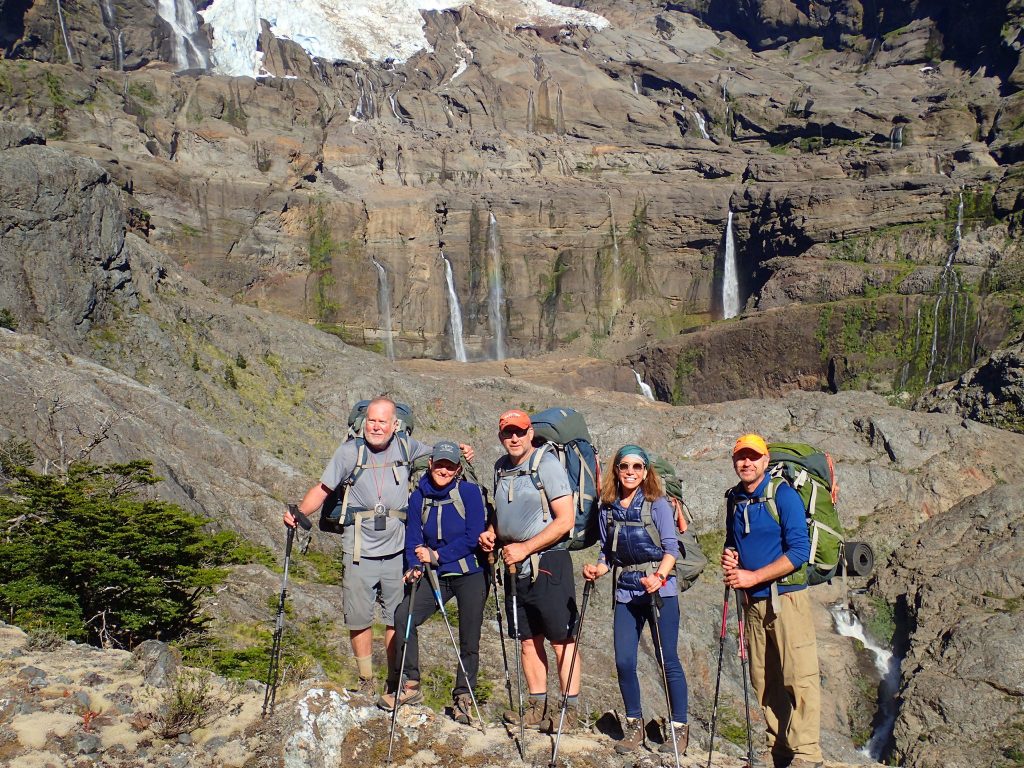 At course end, our crew came back to a world on the brink of the COVID-19 pandemic. We had spent the past 10 days together in the wilderness, working as a team even though each person was there for their own personal mission. We never conceived that the lessons we learned would better equip us for the world we would be living in today. Lessons such as resiliency, conserving and sharing resources, navigating, and adapting to the unfamiliar, and pushing through our own discomfort and fatigue to contribute positively to the greater whole. For that, and so much more, I am grateful I tried the Kool-Aid. Was it scary? A little. Was it challenging and sometimes uncomfortable? Of course. It's designed to be. Would I go again? Absolutely.
And the woman I mentioned who gave her Charlotte Unity Project testimonial almost six years ago at the breakfast…. Her name is Alexys J. Taylor and after graduating from college, she worked her way up to Exhibitions & Collections manager position at the Gantt Harvey B. Gantt Center for African-American Arts + Culture before leaving to work for NCOBS as the Unity Program Coordinator. Her primary role – recruiting high school kids to try the Kool-Aid.