"Young people today need authentic adventure," said Josh Miner in a 1964 article in the Princeton Alumni News. The article, which inspired many that year, highlighted Miner's efforts to introduce a unique experiential education methodology called Outward Bound to the United States.
While Outward Bound had existed for many years overseas, in 1964 it was just beginning to make an appearance in the US. Wilderness schools had opened in Colorado and Minnesota and a third was nearing completion in Maine. Miner's work to introduce Outward Bound founder Kurt Hahn's inspirational views on education intrigued many at the time – and in North Carolina, none so much as Marjorie Buckley.
Buckley was working at The North Carolina Fund at the time – an organization nationally renowned for its innovative approach to North Carolina's "assault on poverty." At the core, their focus was upon education as the lever for change. Their community-based programs included service corps, internship programs, adult literacy projects, economic development initiatives, and much more. Buckley convinced Jack Mansfield, Director of Special Projects at The Fund, that Outward Bound was worthy of examination. Indeed it was, and soon thereafter she emerged as the driving force for the founding of the North Carolina Outward Bound School.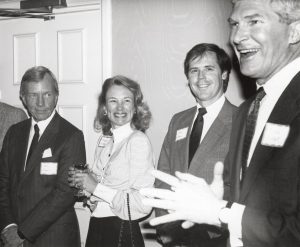 By the end of 1965, Buckley had assembled a board of directors for NCOBS who convened in December to select a site for the first base camp. Despite earlier hopes to establish a seafaring school on Bald Head Island near the Cape Fear River, the group chose the Linville Gorge Wilderness in the Pisgah National Forest instead. According to Buckley, "the purpose of the trip was to survey property that had been offered to the group gratis. It was indeed flat and rocky and most uninspiring. You did not feel as though you were really in the mountains. When that property was quickly dismissed, Herb Kincey and Dave Mashburn – our advisors from Colorado Outward Bound School – said, 'Well, let us show you the sort of place you should be looking for. Of course, you cannot have this property because it's Forest Service land.' We then clamored all over the Table Rock area and were inspired to push against all odds to build our school base there." And they did. They leased the land from the US Forest Service for the iconic Table Rock Base Camp and soon thereafter they were granted their charter by Outward Bound USA.
"When I got there in 1969 to instruct summer courses the base camp was primitive," said Dr. Joe Beckham. "There were brown trailers used for office space, equipment and housing for permanent staff. But the site was effective. The Linville Gorge, Rocks 1 and 2, the Chimneys – they all made the perfect environment for an Outward Bound wilderness program."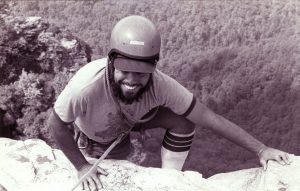 "One of the challenges in establishing this new school was finding the right people to instruct the programs," Beckham explained. "There weren't that many people with Outward Bound experience in the pipeline yet. In those early years, NCOBS instructors were drawn from diverse backgrounds. There were climbers, teachers, counselors, emergency wilderness responders, and a good number of military veterans. Though many had instructed at other Outward Bound Schools, most of us were new to Outward Bound." Skilled program staff provided the rigorous instructor training so essential to prepare these first instructors. Not surprisingly, many of the early staff then went on to establish NCOBS as a leader in the field of experiential education.
In the decade after the first courses were offered by NCOBS, enrollment grew from 184 students in 1967 to 842 in 1977. Like many Outward Bound schools, NCOBS' first courses were strictly for adolescent boys. They soon grew to include courses for girls, educators, college students, military veterans, adults and corporate managers. Now, 47 years and 50,000 alums later, NCOBS is a dynamic organization widely recognized for its enduring mission to change lives through challenge and discovery.