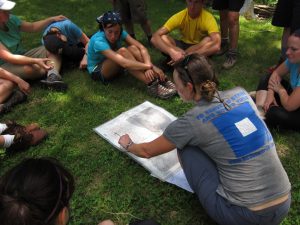 1. What does it mean to you to win the Catcher in the Rye award?  It has reminded me of the larger systems and structures needed to account for safety and how it is such a collaborative effort of so many, to deliver safe courses.  I appreciate the School as a whole for continually striving to improve our safety standards and I am particularly grateful to be amidst so many other staff that are equally focused on and dedicated to safety.  I think we are a group of collective "catchers."
2. The wilderness is kind of unpredictable. What do instructors do to make sure their students are safe on course?  In addition to ongoing training and mentoring that is always happening for field staff, instructors have numerous conversations before, during, and after course about how to manage risks and make specific plans to keep students safe emotionally and physically. The goal is to offer students enough opportunities involving risk so that they may have powerful learning experiences and adventures (while staying safe), as well as teaching students how to also use what they are learning so they too can prevent incidents and respond proactively to our greater teacher: Nature, which can often be unpredictable!
3. I was told you work at multiple NCOBS locations. Which is your favorite and why?  I've worked in the mountains of NC and in the Everglades.  While I love climbing and being immersed in the woods, the splendors andunpredictability of the Glades is like no other place I've ever been.  Dolphins, rage tide, sunsets, night paddles, sleeping on the boards under the stars…there are teachings and majestic moments happening all the time there (along with the bugs, which aren't exactly what I would call 'majestic').
4. What is your fondest memory of working with a student?  On course it's impossible to name only one! However, these days I am increasingly fond of working climbing blocks with students and watching those students work through their fear of heights, while genuinely reaching out to support each other. Last summer a group of instructors and I were working with a pair of unconfident students and we challenged them to multi-pitch with their crew. It was amazing to be three pitches up with them and realize they just needed another chance to allow themselves to be stretched, and let go of their perceived (fear-based) limits. That experience was yet another reminder for me, even as I am managing safety, to have a growth mindset instead of a fixed mindset.  The students are always my teachers!