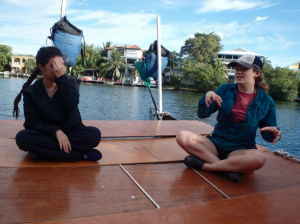 As we welcome warm weather and clear blue skies to the mountains and rivers of Western North Carolina, our Town Office has begun to fill with instructors and other field staff. We sat down with Alessia Faverio, a three-season veteran whitewater instructor, to talk about her work with NCOBS.
Why NCOBS?
I attended Warren Wilson College, where I studied Biology/Chemistry and Outdoor Leadership. During my time at Warren Wilson, I heard over and over again, from my mentors and professors about North Carolina Outward Bound. Many of my kayak instructors worked here and when I graduated I came straight to new staff training. I really like working here, particularly because I enjoy giving students an opportunity to have an experience they have never had before.
During your time in the field as an instructor, has there been a moment that stands out for you?
I think anytime that someone runs a rapid for the first time is really amazing. The look on their face once they are done is great!
Part of your work as an instructor is to teach interpersonal skills. Is there a lesson you enjoy in particular?
This past winter I was working at the Scottsmoor base camp in Florida with the Outward Bound FINS (Families in Need of Services) program.  I really enjoy working with this group of kids, especially teaching them "time and place" communication skills. These are lessons that they can take home and apply in their everyday lives that can help them be successful long-term.
What has been your biggest adventure so far?
I think I am in the midst of it right now, actually. My partner and I have been training for the last three months for the Wild Water World Championships, a river paddling race in Bosnia, Slovenia and in France, which is coming up in the next month. After this is over, I will be coming back to WNC to work with NCOBS.
Is there a pillar that resonates strongly with you in your life and the work that you do?
Compassion. I strongly believe in karma and how you treat people is what you are going to get back. I see this in the students I work with through NCOBS, and work on it in my own life.