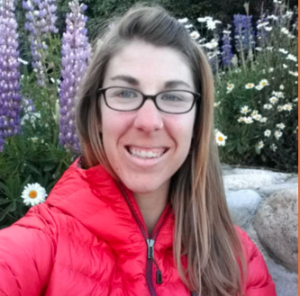 If you have taken a course with us, then you may have had the opportunity to visit one of our historic base camp communities. At NCOBS we have seven base camps total; two in the NC mountains, one mobile base in the Outer Banks of NC, three in Florida and a mobile site in Patagonia, South America.
These bases are open seasonally and host many of our field staff members as they come and go for courses. While many of us spend time at bases, few of us know what it takes to keep them running smoothly. However, for some individuals, it's their job to keep things up and running. Each base requires a few key players, one of which is the Program Director.
Lark Gardner has been with NCOBS for eight years as an instructor. She has worked in diverse program environments, with many different course lengths and program offerings. Most recently she took on the role of Program Director at Cedar Rock.
What drew you to working with Outward Bound?
It's a funny story how I got started with Outward Bound. I was working as an instructor at a therapeutic weight loss camp in Wanyseville, NC. At the end of the season, my supervisor, who was a former NCOBS instructor, offered me a position in management. I told him I wasn't ready to be in an office yet and that I was looking for a place with magic and tradition. That's when he suggested I apply with NCOBS.
However, when I was 18, I was also a student on a 12-day NCOBS course. I had the experience that many of our students have, the 'type two' kind of fun. I had hated my Outward Bound course so I told my supervisor I'd rather not. He was a persistent mentor and with time convinced me to apply. At the end of new staff training I was hook, line, and sinker, having found plenty of magic, tradition, and so much more with NCOBS.
A lot goes into running a base camp. Describe some of your day-to-day duties as the Program Director?
The role of the Program Director has been an honorable opportunity to learn more about what it takes to support a base of instructors and enable them to go deliver the magic they make so well. Considerable time is spent preparing payroll, attending program meetings, managing the base camp's budget, delivering safety briefs, attending debriefs after course, and reviewing evaluations and reports on courses. Annual trainings are also a large part of my role. At the beginning of each season we offer driver training, ropes course overview, and a rock climbing review to uphold the quality and safety in our courses.
What is it like being at base for the season?
Working and living at base for the whole season has made Cedar Rock the number one place that I call home. Watching the seasons change in the colors of the forest and also through the people who come back and drive our community is something I feel continually thankful for. There is also some great playful base camp banter and competition between the mountain base camps (Cedar Rock and Table Rock.) The "Cedar Rockers," are very prideful. We often joke that the Cedar Rockers are fully aware of Table Rock's impressive housing and great access to climbing so we make up for it by being overly boastful.
What do you like most about being a Program Director?
What I love most about the being a Program Director is the time and opportunity to foster others' individual process. New instructors come in with so much enthusiasm, it is impossible not to be affected and inspired. I am able to talk with instructors before and after each course, to hold a well-rounded perspective on their development and help with staffing decisions.
What is your fondest memory of working with a student?
I plan to never have a definitive 'favorite memory' when working with students but rather keep making more. However, most recently I was in the field and we had a gentleman on course who hardly spoke and if he did it was only if he was directly addressed. During our five-day rock climbing block it was obvious he was hesitant to climb and he told me the night before our multi-pitch that he wasn't going to. He and I chatted about what a rare opportunity it was and agreed to think about it overnight. The following morning he was the first student I belayed over the "Block" on TR which was his third and final pitch of the day. He looked at me and said "thank you for making me do it." He didn't suddenly turn into a chatter box after our multi-pitch day, but we gave him an opportunity, pushed him to succeed, and he was thankful for having done it. That is a very successful day of work at NCOBS in my opinion.