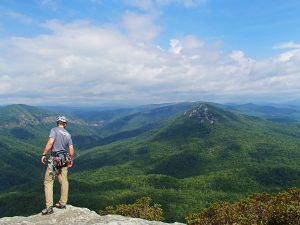 North Carolina Outward Bound School employs more than 200 instructors each year to work in the field with its participants. As the leader in experiential and outdoor education, our instructors are accomplished outdoor educators who have extensive experience and training and whose passion forms the backbone of the organization and the heart of every course.
Corey Winstead, Chief Climbing Instructor at NCOBS, is a great example of that dedication. Eight seasons after his internship at Table Rock, Corey has advanced his career through numerous trainings and certifications as well as his own undeniable passion for changing lives of his students through challenge and discovery.
For our readers who don't know, what does being a Chief Climbing Instructor entail? 
Being the Chief Climbing Instructor for NCOBS means that I oversee all climbing and ropes course activities school-wide. NCOBS will climb with approximately 1,700 students this year alone and that climbing instruction will be delivered by both instructors and Climbing Specialists.
In addition to hundreds of days climbing with students, my job involves hiring our Climbing Specialists, maintaining ropes courses and developing the technical skills of our instructors. It is a priority to make sure our staff are trained at the highest level to keep students safe in high-risk environments.
What kind of qualification do you need to have to do that job?
In order to be the Chief Climbing Specialist for NCOBS, an individual must have an extensive climbing resume, as well as experience managing novice climbers in "multi-pitch" terrain.
I think an important part of my job is to be the most well-rounded climber I can be. For me that means climbing around the country during my months off, pursuing Rock Instructor certification from the American Mountain Guides Association, building ropes courses for Alpine Towers, and staying active in the local climbing community. I also keep up my Wilderness EMT certification, train NPS staff at a Technical Rescue Training, I'm a member of the Burke County Rescue Squad and serve as the Assistant Chief of the Appalachian Mountain Rescue Team. All of the above is really safety related, the rest of the job is creating the magic of an Outward Bound experience.
What do you think is the most important trait for an Outward Bound instructor to have?
More than anything an Outward Bound instructor must be a good risk manager. One of the most amazing things about Outward Bound is that we accept that some amount of risk is important for the growth of the individual and is necessary for the learning process. Every adventure involves stepping out of the roles and situations you're comfortable with, and risking a little, or a lot to see what lies beyond. OB instructors provide students the opportunity to learn about themselves in challenging, but safe environments.