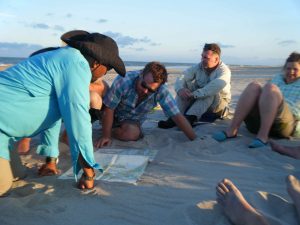 Written by: Lydia Carrington
When U.S. military personnel return from active duty, their mission may be over but the difficult work of readjusting to life back home is still ahead. From complex and serious issues like physical and emotional trauma, and depression, to the more routine troubles of returning to the workplace or school or connecting with family members and friends – the stresses of re-entry can be overwhelming for many.
To aid in the transition, some veterans are joining their comrades and heading into the wilderness for North Carolina Outward Bound School's challenging and transformative Veterans and Service Members Program.
David Rutherford, a former Navy SEAL and Florida-based author, says his backpacking and rock-climbing course in summer 2012 was "one of the more powerful courses I have ever been a part of."
"Nine veterans, all from different units, randomly came together … and allowed themselves to be set free," he said. "Through nature's abundance and personal physical challenge, we were all able to find some inner peace."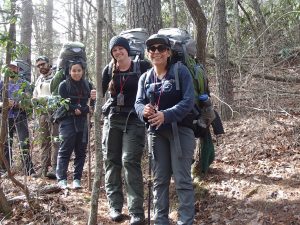 For almost 50 years, North Carolina Outward Bound School has been leading expeditions and transforming lives. In 2009, NCOBS added courses specifically designed for veterans. The program aims to help returning service members and recent veterans readjust to life at home through challenging outdoor adventures that draw on the healing benefit of teamwork and challenge. Hundreds of veterans have participated on the North Carolina-based courses, and thousands through the national program, and most agree the experience is one of the most inspiring they've had in their lives.
"Over and over again, we hear from our participants who say their time on course has helped transform them in small ways and big ways," said Matt Rosky, Program Manager for NCOBS Veterans and Service Members Program. "The experience helps them reconnect and re-engage with themselves and those around them."
Finding some inner peace
Like all NCOBS expeditions, the Veterans courses are led by experienced outdoor instructors who are skilled in backpacking, climbing, paddling, orienteering, wilderness first aid and safety. Additionally, Veterans course instructors receive specialized training to help them better understand the military culture and the effects that military service may have on the physical, mental and emotional wellbeing.
On the Veterans courses, crews of eight to 12 men and women work together, navigating backcountry or coastal wilderness areas, climbing rugged rock faces, traversing a high ropes course, or paddling on the open sea or through tropical wetlands. Along the way, they push and encourage themselves and one another, challenging their bodies and their minds and establishing camaraderie and trust that many say they haven't experienced since they were deployed.
For some Veterans, the experiences of the course can stir up emotions and troubling memories from their time of deployment. But the bonds with fellow crew members, they say, make it easier to open up and share those thoughts and feelings — whether it's during informal moments along the trail or in the kayak, or in more structured time at day's end around the campfire.
"The debriefs at night are so powerful," said Jerry Cantwell, an instructor who has led many courses for NCOBS. "It's really incredible how they share with each other. I've never seen a group of people come together in a safer learning community. They are so accepting."
A viable therapeutic alternative
Studies show that between 40 and 50 percent of recent veterans receiving health care from the U.S. Department of Veterans Affairs have been given a mental health diagnosis, but only one-third of them pursue traditional or non-traditional treatments. In part, experts attribute the low treatment rate to the stigma that service members and veterans often attach to seeking mental health assistance.
In 2012-13, a University of Texas researcher studied the effects of the Outward Bound experience on a group of 220 military veterans, nearly 50 percent of whom reported having a mental health diagnosis. Participants were surveyed to measure a wide range of interpersonal, intrapersonal and mental health variables at three separate times – a few days before the course, immediately after the course, and one month later. Results showed significant positive gains in all measures from the time of pre-course to one month after, with most participants reporting higher levels of self-confidence and overall healthier and more balanced lives.
The study also showed that Outward Bound, which was founded during World War II to teach survival skills to young British sailors, resonates strongly with today's veterans and service members because many of the program's values are reminiscent of military principles. Those connections, the study concluded, make Outward Bound a viable therapeutic alternative for service members who are reluctant to seek more traditional mental health assistance.
Disabled veterans, military families
As the NCOBS Veterans Program marks its seventh year, the organization is working closely with a growing number of partners and funders to meet the increasing needs of military personnel and their families.
While still collaborating with longtime cohorts like the VA Medical Center, USO North Carolina and The Warrior Institute, NCOBS is forging relationships with new allies to create curriculum and experiences specifically for military children and disabled veterans.
In summer 2014, NCOBS ran its first course for children who have lost a parent to war. Funded by The Little Warriors, a nonprofit dedicated to providing outdoor adventure to children of fallen Navy SEALS and Naval Special Warfare Personnel, the seven-day adventure of backpacking and climbing in North Carolina's Cedar Rock wilderness area included nine young people and three instructors.
This year for the first time, with funding from the James M. Cox Foundation in Atlanta, NCOBS is offering a course exclusively for veterans with amputations of the arms and legs. For six days, a crew of up to eight veterans will camp in the backcountry of the North Carolina mountains and use adaptive gear to rock climb and do a ropes course.
Down the road, Rosky says, NCOBS hopes to work with more service members, possibly offering courses for veterans and their spouses or children, and for military couples.
"The need is great, not only for the veterans themselves, but for their families," Rosky said. "We want to be there to help."
For more information on NCOBS and its Veterans Program, visit www.ncobs.org/veterans or call 1-866-699-6262.