Written by: Margo Nottoli
From 2012 until 2020, 1,270 students participated in the North Carolina Outward Bound School-led Outward Bound Families In Need of Services (FINS) Program for youth facing challenges in Florida. 
"The mission of Outward Bound Founder Kurt Hahn's Salem School, a predecessor to the first Outward Bound School: "to train citizens who would not shirk from leadership and who could, if called upon, make independent decisions, put right action before expediency, and the common cause before personal ambition."
Dr. Thomas James
"Here I am on day 20 of Outward Bound, after paddling for miles and ending at different campsites each night. It was quite an experience to have such amazing girls and instructors. I think my favorite experience had to be the last day paddling on the Suwannee River. On day 16, my team and I decided to paddle a whole 30 miles in one day. Being able to drive myself and my team to paddle that many miles shows a lot of encouragement. It felt good to challenge myself and actually follow through with it. … On this course, you learn and gain a lot but I think the biggest learning I will take back with me is that there is no bending rules or getting out of something. Sometimes, actually, most times, you have to push yourself and get through any obstacle. This is what I plan on doing when I get home, because no matter what, what needs to be done isn't done 'til it is recognized, thought-through, and finished."
Samantha, FINS alumni
---
For eight years, highly-skilled North Carolina Outward Bound School (NCOBS) instructors led 20-day wilderness expeditions in the Everglades, as well as along the Ocklawaha River, Suwannee River, St. John's River, and the Intracoastal Waterway in Florida. Instructors, along with the course directors and family coordinators, then worked with families/guardians and schools in a 20-day follow-up program to construct customized networks of support for each student and reinforce their newfound, yet fragile frameworks for positive choices. Because of the skill and dedication of the Outward Bound FINS instructors and staff, the positive impact of this program on young people and their families, schools, and communities is immeasurable. It translated, for many students, to nothing less than their first real chance at success.
Unfortunately, in April of 2020, NCOBS had to inform Florida's Department of Juvenile Justice that it would no longer be providing the Outward Bound FINS Programs. It was a painful and difficult decision for the School, yet from the perspective of long-term sustainability for NCOBS, inevitable. The sense of loss, particularly regarding staff departures, and the obvious need to support this vulnerable student population with skills for success, reverberated throughout the NCOBS community.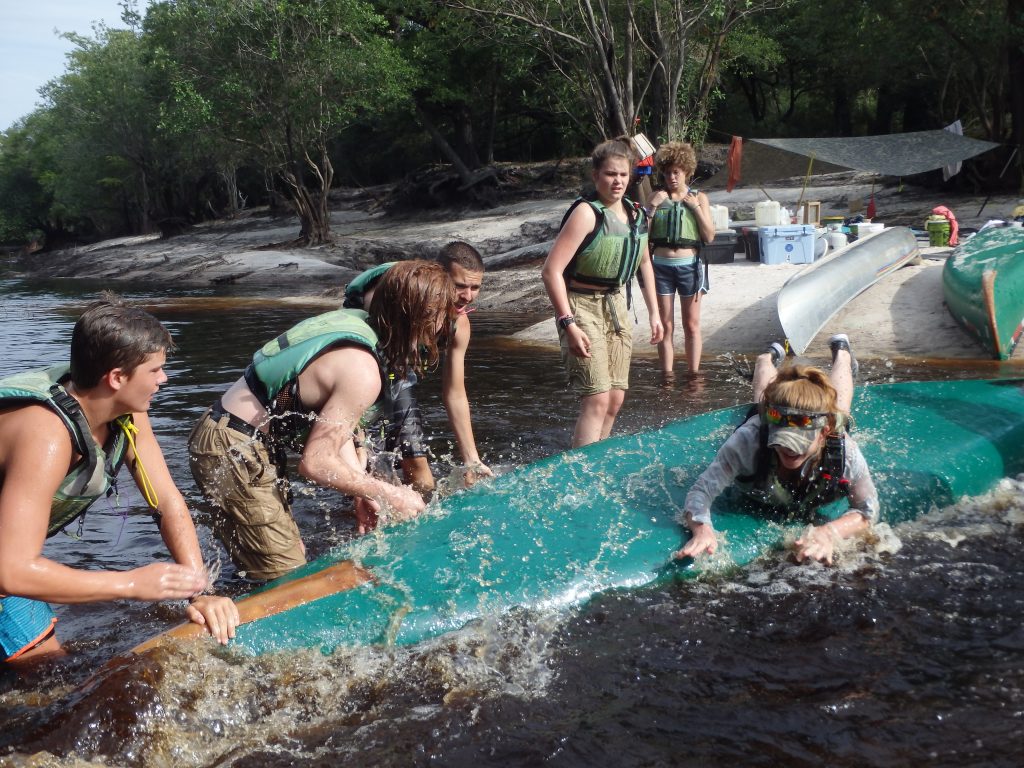 The Outward Bound FINS Program was rooted in a 45-year legacy of programs for at-risk youth, conducted in partnership with Florida's Department of Juvenile Justice, Department of Education, and School Lunch Program. The first Outward Bound at-risk program in Florida—STEP (Short Term Exit Program)—was designed for adjudicated youth. From 1975 until 2006, when it ended, STEP served more than 9,000 students in need.
In 1982, the Department of Juvenile Justice contracted with Outward Bound to run FINS courses. Florida's statewide network of FINS Programs is designed to improve community safety by reducing youth involvement in crime or violence and redirecting them to lead responsible lives.
The Outward Bound FINS Program differed from STEP in that it was designed to provide an intervention for youth before they became involved with the juvenile justice system. It differed from all the other Florida FINS programs as it was the only wilderness-based intervention with school-based follow-up. The first Outward Bound led FINS Program, established in Brevard County for students from Central Florida, moved to the Scottsmoor basecamp in 1988. The second base camp in Key Largo was added in the late nineties. The Outward Bound FINS Program was delivered by Outward Bound Southeast until 2012 when the school closed. After that, NCOBS took over the management of the program to ensure its continuation.
The target population for the Outward Bound FINS Program was 12- to 17-year-old male and female South and Central Florida youth who demonstrated at least three of the 11 Florida Department of Juvenile Justice (FLDJJ) risk factors for entering the juvenile justice system.  In 2016, the demographics of the 75 Outward Bound FINS students from Miami-Dade were 40 percent African-American, 56 percent Hispanic, 4 percent Caucasian. From 2005 to 2016, 90 percent of Outward Bound FINS Miami-Dade alumni had no adjudications or convictions within 12 months of program completion—a success rate equal to prevention programs up to three times longer and far more expensive.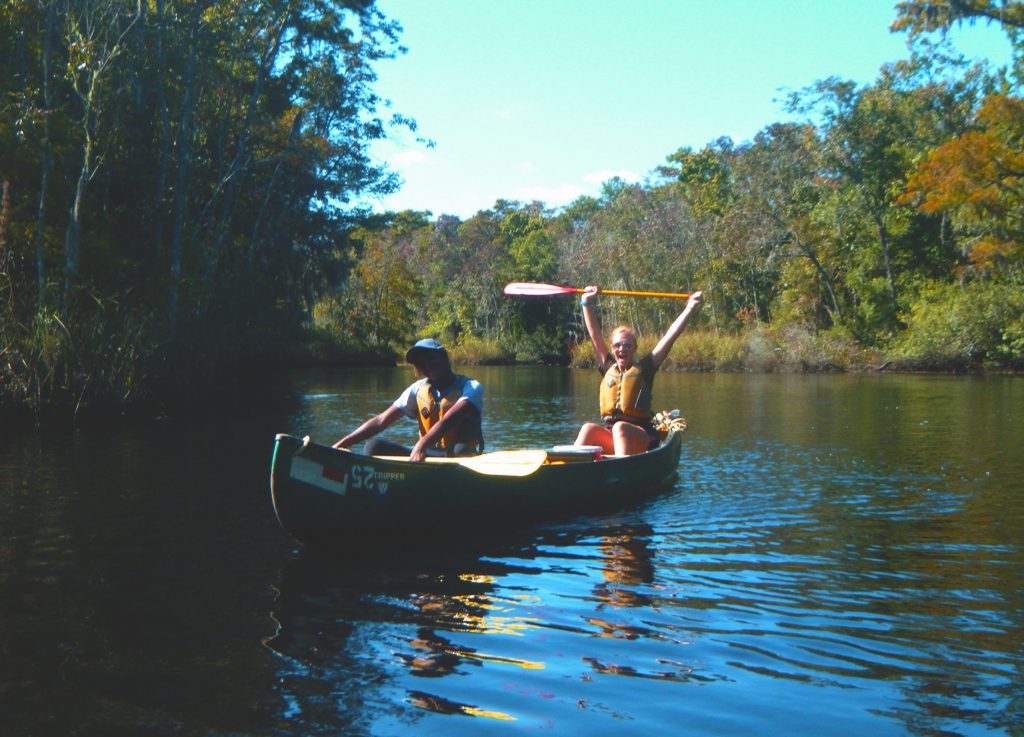 "One of my fondest memories of working with a student happened on a Key Largo Boys FINS course. At the beginning of course, there was a student who was struggling with wanting to be at Outward Bound, making positive decisions, and following expectations. These behaviors continued to occur until Solo, where students have time to reflect on the course and the changes they want to make. During Solo, this student decided that he wanted to change his attitude and behavior on course and at home and when the students came off of Solo, he spoke to the group about how they all needed to step up and become leaders because it was going to be really hard when they got home. After this speech, his group became focused on being positive leaders and finishing the final push out of the Everglades to home.  
A few days later, the group unanimously voted him into the permanent student leader position. On the last day of the expedition, he was talking about his experience and he said, "I have never tried harder for something I didn't want to do."  During follow-up, he was very successful and taught his younger brothers and sisters the tools and lessons used on course.  This memory reminds me that everyone has amazing potential, but sometimes needs a little spark to get going."
Anne Hersman, NCOBS Instructor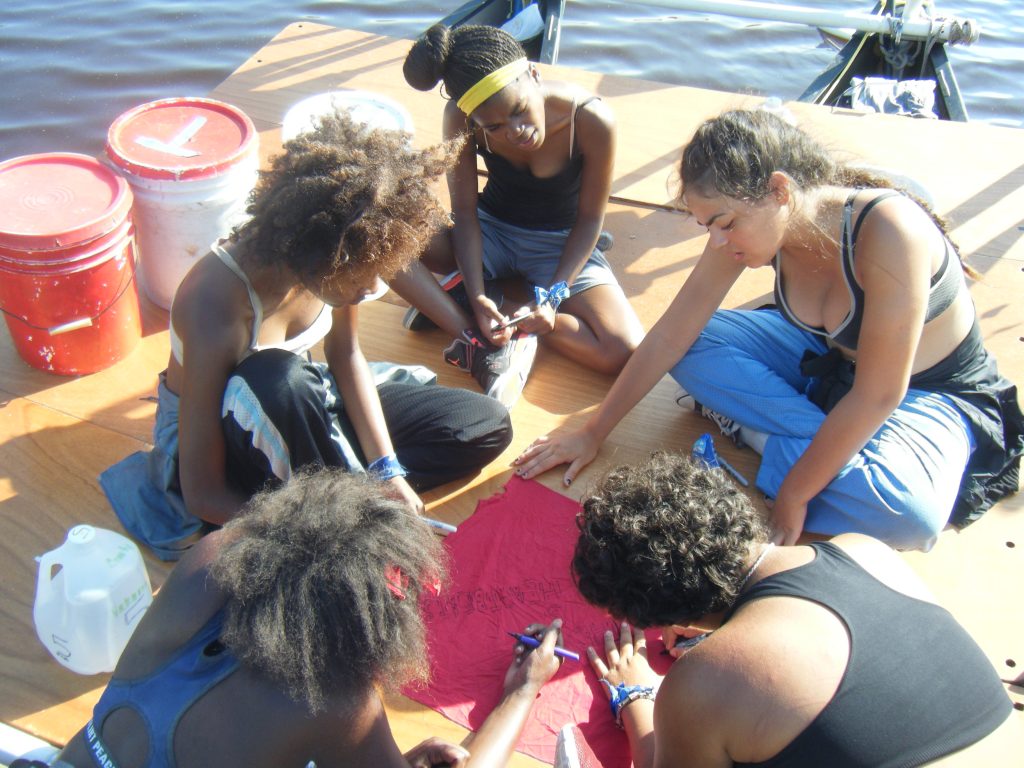 The primary goal of the Outward Bound FINS Program was to redirect youth from crime or violence by empowering them with the life skills required to lead responsible lives. To achieve lasting, positive change the program was carefully scaffolded to graduate students from a compelling wilderness expedition to a network of support provided by their schools, community agencies, and families/guardians.
 "The real heroes of the FINS program were always the students and families – facing often overwhelming challenges, they chose to hope for a better future and entrusted us to support them on that path.  I have countless memories of being floored by the courage of my students, their willingness to be vulnerable and take risks, and their dedication to their goals.  The follow-up component, where parents, guardians, and siblings worked alongside the students to implement the skills learned in the wilderness at home, was a powerful experience that transformed whole families.  It was a privilege to accompany them on that journey."
Katie Dalbey, Former NCOBS Staff Member
By several measures, the Outward Bound FINS Program was highly effective. Post-course evaluations and external studies demonstrated significant improvements in school engagement, self-esteem, the perseverance of effort, self-efficacy, active coping skills, a decrease in the youth's delinquent behavior, and improvement in parent-adolescent communication, to name just a few. Furthermore, according to the Florida Department of Juvenile Justice statistics, the Outward Bound FINS Program diverted youth from the costly school-to-prison pipeline with average 12-month recidivism rates of only 10-12%.
"The FINS program was a very special kind of Outward Bound program. FINS provided Outward Bound courses to families of Florida for free, paid for by the Florida Department of Juvenile Justice. Many families that participated in FINS programs would likely not have been able to afford an Outward Bound course. FINS provided them that opportunity. FINS was an intervention program intended to provide Florida teenagers an opportunity to develop resilience, perspective, and life skills through an Outward Bound course. After their wilderness experience the instructors, course directors, and family coordinators worked directly with the families to continue building upon and practicing the skills that students learned on course. This follow-up phase was part of the magic. Over the 37 year history of FINS, these courses impacted the lives of countless students, families, and staff. These programs truly embodied what it means to be Outward Bound."
Ryan Kingrey, NCOBS Instructor