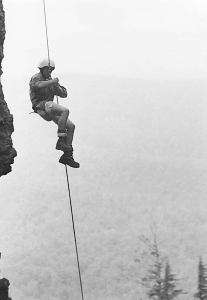 "His being is more than his doing."
One of the things that has made North Carolina Outward Bound School (NCOBS) exceptional since our founding is our team of dedicated instructors and staff. For nearly 50 years, these pioneers in experiential education have worked tirelessly to create life-changing experiences and lasting memories for our students. It is with great pride and pleasure that we honor one such pioneer, our very own Mike Fischesser, as the 2015 recipient of the Kurt Hahn Award.
This award, named in honor of Outward Bound's founder, is presented by Outward Bound USA annually to a person who exemplifies outstanding service to the mission. It is awarded to an individual who has made a contribution through his or her life's work on behalf of others, while demonstrating the values and ideals of Kurt Hahn and is the highest honor given by Outward Bound in the US. For those of you who don't know Mike, the nominating team may have put it best when they said, "we simply know of no other person who has done so much for so long to instill those qualities revered and promulgated by Kurt Hahn, and no one is more deserving of the award that honors his name and contributions than Mike Fischesser."
Mike became involved with the Boy Scouts of America in the early 1960s and, from scouting, began his long association with Outward Bound after completing a classic course in 1971. A year later, Mike began his career as an instructor for North Carolina Outward Bound School. Within five years he was appointed Program Director at NCOBS at the young age of 26.
One of Mike's Outward Bound legacies, and further proof of his enterprising curiosity, is undoubtedly his work to design and implement the Kurt Hahn Leadership Center. The Center, launched in 1983, was a place where educators could attend seminars and trainings on Outward Bound philosophy and methodology. The Center was so successful that Mike was recruited by Outward Bound USA to replicate it at the national level. While in this role, he conducted national safety reviews of other Outward Bound schools and their programs, and helped to establish the New York City Outward Bound Center.
The ripple effect of Mike's commitment to Kurt Hahn's ideals has been extensive. After leaving Outward Bound, Mike continued to found and lead successful experiential education programs and companies. In 1988, Mike developed the concept of the Association for Challenge Course Technology and is still regarded as a leading pioneer in the field. Shortly after this he created Alpine Towers, Inc., making climbing and challenge course adventure a reality for thousands around the world. Around the same time he founded the American Adventure Service Corps (TAASC), a non-profit designed to reach new generations of young people as they discover how to become better stewards of their world.  Thanks to Mike's steadfast leadership and selfless commitment, TAASC continues to provide hundreds of children from rural communities in NC with previously unimaginable opportunities to experience challenge and discovery.
Please join the entire NCOBS family in congratulating Mike on this prestigious award. We are grateful for his dedication to Outward Bound and to the ideals of Kurt Hahn, and for his ongoing contributions to changing lives in the pursuit of a better world.