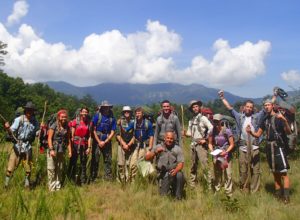 By Alumna Jaime Burse, Libby Jones Scholarship Recipient, Blue Ridge Backpacking and Climbing, 2016
Today I opened a letter that started "I hope you're showered with clean nails and deodorant on, but I also hope you remember how normal it felt when you weren't."  It was a letter a wrote myself six months earlier while spending 24 hours alone in Pisgah National Forest.  It was sound advice.
I was hopeful that my Outward Bound expedition would be a fun and challenging experience.  I never expected it to be as impactful as it turned out to be.  I went on a fourteen-day voyage to have an adventure climbing mountains and backpacking in forests.  I walked away feeling a level of acceptance I had only dreamed was possible.  I thought hiking for hours uphill, or getting to know a group of strangers, or even being without a bathroom would be the hardest part of the trip. I was wrong. Despite all of the personal struggles and group growing pains I experienced on the trip, I spent my days feeling happy and fulfilled.  Not the happiness that is fleeting or driven by adrenaline, but true contentment.  I hadn't felt that way for a long time. The hardest part was leaving.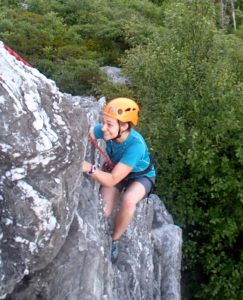 I came home with a renewed spirit, sense of direction, and purpose. I wanted others to have this wonderful experience. Soon, I found my answer. I stumbled upon schools using expeditionary learning models for their own instruction. I, myself, am an elementary school teacher, was intrigued. If it works for Outward Bound, why wouldn't it also work when teaching academic skills? With a bit more research I found a curriculum produced by Expeditionary Learning (EL). EL was created in partnership with Harvard Graduate School and Outward Bound, and it was founded on the 10 principles that guided Kurt Hahn's work.
The primacy of self-discovery
The having of wonderful ideas
The responsibility for learning
Empathy and caring
Success and failure
Collaboration and competition
Diversity and inclusion
The natural world
Solitude and reflection
Service and compassion
I am in the midst of guiding students through a unit built on these principles.  The content is the American Revolution, but students are learning so much more.  As we discuss the roles various people played in the war, students have discovered how everyone has a unique perspective and that these different perspectives need to be honored. We've celebrated doing this in our own classroom. The students have a level of engagement that can sometimes be missing from classrooms. I wish I could bring my class to North Carolina, but for now I know they are benefitting from a teacher with a renewed spirit. I am helping to raise twenty-three compassionate and empathetic humans.  This is how we change the world.