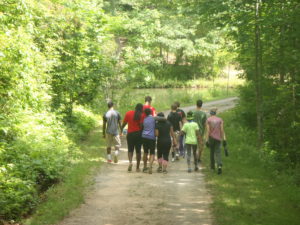 By Alumnus Henry Cox, American Explorers Program
Hello, I'm Henry Cox, a sophomore at Charles R Drew Charter School, and I spent two weeks in the summer of 2015 backpacking with Outward Bound in North Carolina. I came to Outward Bound through Arthur Blank's American Explorers Program. This program is designed to work with Atlanta teenagers who have shown themselves to be leaders in the community.
Something that makes American Explorers unique, is that it is a four-year commitment and in addition to summer programs, opportunities are offered throughout the year. So far this year we have attended a Falcons Football Game, participated in the Mothers Against Drunk Driving 5K, some of us are taking swim lessons, we are all becoming CPR certified and in a few weeks we are participating in a two-day team-building ropes course with Atlanta Outward Bound Program run by North Carolina Outward Bound School.
Initially, I thought that my two weeks in North Carolina with Outward Bound would be a breeze; at least compared to the previous year when the program flew us out to Montana for a three week outdoor learning expedition. But then, I started reading the information about the course a little more carefully. Two items in particular caught my attention right away: the 24 hours alone called 'solo' and the personal challenge event. Panic started to set in. What had I signed myself up for?
Well the time alone during solo wasn't so bad, thanks to a friendly mouse whose nest was at the base of a tree within my area. He was a great listener.
But the personal challenge? Running seven miles through the woods after backpacking for two weeks? This didn't sound like much fun. It sounded painful. My plan was to take my time. When everyone took off running, so did I, but not too fast. After a few minutes of this I realized that I could be going a lot faster. And, in my head, I heard my instructors' voice…"this is a PERSONAL challenge"…so I started to speed up. I couldn't believe it, I was passing people…a lot of people, and maybe I wasn't so bad at this.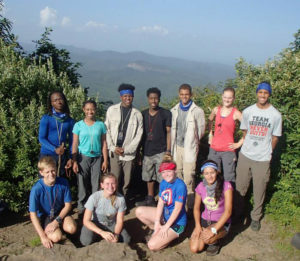 I finished the 7 mile course in fourth place and left North Carolina with a few bug bites, some scratches and scrapes, new friends and a new idea. Maybe, I was a runner.
I have never been very good at a lot of sports, I was completely hopeless at soccer and basketball. Last year, my parents encouraged me to try out for my high school's cross country team. I did go to one meeting, but then never went back. But, this year, with my victory over my personal challenge tucked neatly in my back pocket, I did go to a cross country meeting. And then a practice and then joined the team. Our team just won the Regional Championship last week, and I am the regional champion. Yes, the same boy who was going to take his time running the Outward Bound PCE (Personal Challenge Event)  is the Level 'A' Public School Regional Champion and my team just recently finished first at the state competition with me finishing first out of my team!