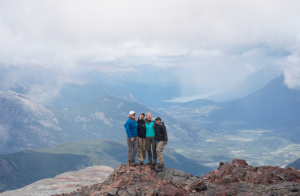 By Alumna Sierra Farrell, Spring Semester Course, 2017
All I could think about was sitting down, and giving up. Every muscle in my body was screaming, telling me to stop pushing, to sit down, and quit. Every inch of me was coated in thick, stinky mud, and I could feel it drying and crusting to my skin as the hot sun was beating down on me. My crew and I were in the middle of the Lost Portage, pushing our six canoes through thick, deep mud that was up to our chests. We had been pushing our canoes, full of gear, through the mud and saw-grass for 17 hours now. After pushing from sunrise to sunset, we boarded up in the middle of the swamp to try and get a few hours of sleep. Around 3:00am, we put our mud-soaked clothes back on and did it all over again.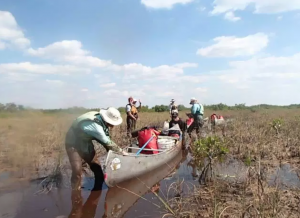 There was no plan B; no button to press to magically get us out of the swamp. All we could do was work our butts off until we were out of the mud. When we finally reached clear water and submerged ourselves in it to try and clean off the layers of dried mud, I felt an overwhelming sense of achievement and strength from what we had just accomplished. That long, grueling trek, was one of the most challenging things I have ever done, and it took everything in me to keep going. I had to dig deep and find every last bit of grit I had in order to not give up physically or mentally.
That canoe push in Florida, was just one of the many times that I was driven to what I thought was my limit during my 72-day semester course. I quickly learned I had the ability to exceed far past whatever limits I'd put on myself before my Outward Bound course. Today, I reflect on the progress I've made and what I was able to accomplish on my course.
Only a short two years ago, I sustained a serious injury that prevented me from walking for more than ten minutes at a time, but in Patagonia, I summited four mountains, crossed valleys, rivers, and even climbed a glacier.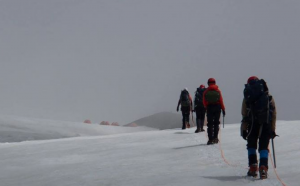 Before coming on the trip, I was a passive person when it came to conflict and I did whatever I could to avoid confrontation, but living in such close quarters with my crew, especially when in Florida, taught me that not all conflict is negative and that it can be very effective when approached in a constructive way. I learned how to confront my peers when an issue arose, and I developed skills that helped me to productively resolve an argument. Intimately working and living with a small group of people taught us how to interact with one another in times of frustration and above all, we had to learn to respect each other.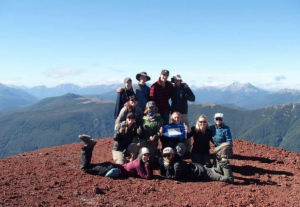 In North Carolina, I tested my mental limitations when I faced class three rapids on the French Broad River, capsizing my canoe while there was snow still on the riverbank. I tried rock climbing for the first time, and had to overcome the challenges of this new technical activity, which is 90 percent a mental sport.
In the 72 days I was on course, I faced extreme self-doubt, anger, tears, and homesickness. While facing these challenges, I truly did not believe I had the physical or mental perseverance to endure them, but I did. I broke the limits I had made for myself because there was no other choice, and this was a valuable lesson to learn. Outward Bound created exciting, controlled opportunities for me where I was able to fail and succeed. I learned from my mistakes and grew through my experiences. Now that I am home and I'm no longer living in the mountains, I recognize Outward Bound's influence in everything I do. I no longer limit myself and I am not afraid of a challenge. I view obstacles as opportunity and I have the skills and confidence needed to confront my fears. I am now the kind of person who is ready to work hard to conquer any challenge thrown my way.
Outward Bound truly does "Change lives through challenge and discovery."
> WATCH A VIDEO ABOUT MY EXPERIENCE