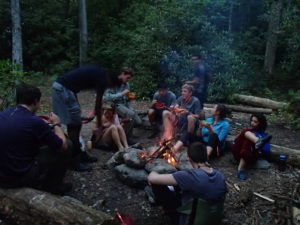 By Alumnus Kyle Roncagli, 22-day Blue Ridge Backpacking Course, 2016
During the summer going into my Senior year of high school, I went on a 22-day backpacking course in the Pisgah National Forest with Outward Bound. I went into the trip pretty indifferent and not very optimistic. I had no idea this trip would change who I am today, and what I think of myself as a person, forever.
I heard about the program through a relative of mine that works for the organization. Being a big fan of nature and enjoying outdoor activities, I thought it was a great idea…at first. But as the time for course drew closer, I became nervous and I wanted to back out (as I would do with many things before going on Outward Bound.) I went back and forth with my mom before she finally convinced me to follow through and go on the expedition.
I will always be thankful to my mom for persevering in that moment, because it was one of the best decisions I've ever made. Having the opportunity to go Outward Bound not only helped me discover who I am as a person, but it also taught me some important life skills.
Living outside for 22 days helped me learn to be more practical and a lot less lazy. When you spend every second of your day outside, you realize there are real world consequences for things. For example, when you're setting up your tarp at night you need to take your time and use craftsmanship while your doing it, otherwise when a passing rain storm hits, you will find yourself cold and damp with nowhere to go.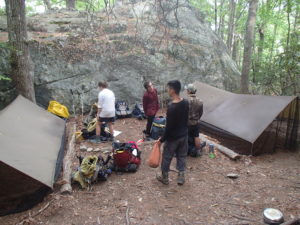 Hiking six or seven miles everyday with a 60 pound pack on my back taught me to plan ahead, and to find balance. For example, if you and your crew have been hiking all day you need to make sure you take enough breaks for water, to breathe, and to enjoy the view. You can't just push through the hike to get to get it over with, otherwise people will end up tired and dehydrated. At the same time, you can't be lazy in your day either and afford yourself too many breaks or you'll never make it to camp in the daylight.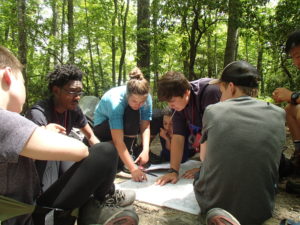 I also really enjoyed solo. Spending two days in isolation in the wilderness taught me more about myself than I ever thought possible. Before Outward Bound, I wasn't as outgoing or confident, but the course gave me time to reflect. I discovered that I shouldn't be nervous when talking to others, or care what other people think, because in that moment, when I was alone deep in the wilderness, none of that existed; it was just me and I know what I am capable of. Overall, I would consider this one of the greatest experiences of my life and it has made me realize that sometimes in life, you just have to take a chance on things that scare you or make you nervous because they may work out really well for you in the end.