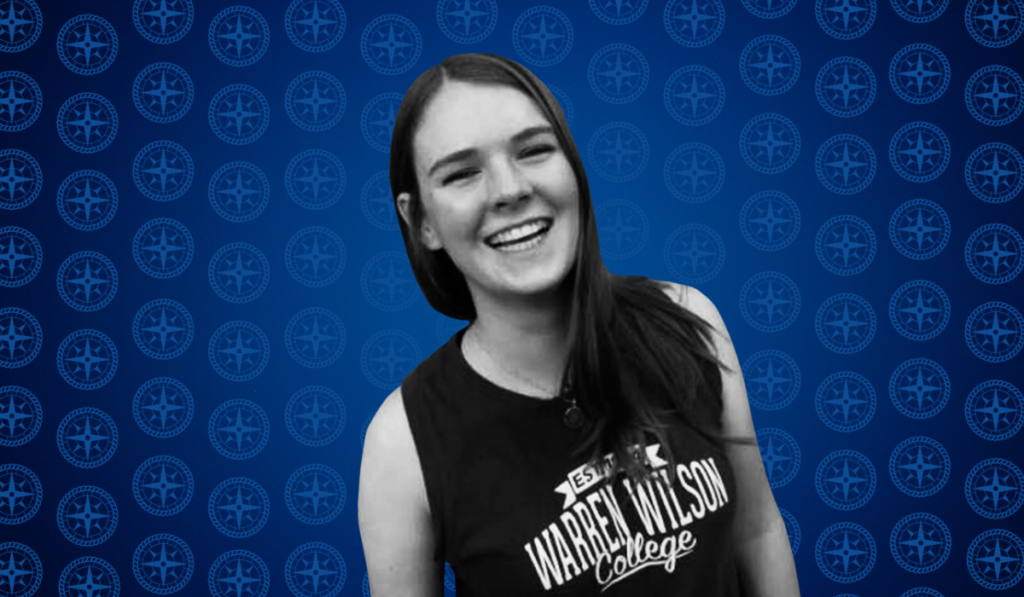 Written by staff member, Nicole Fava
It's 7:30 PM on a weeknight, and the sun is setting on a warm summer evening in North Carolina. I've just gotten up from my desk for the first time in hours to stretch my legs. Tonight, I'll be video chatting with one of our Outward Bound alumni currently living and working in Costa Rica teaching English to elementary school students, a passion-led path she credits to Outward Bound.
As I sit back down and get comfortable, my coworker Whitney also pops onto the video chat. She'll be helping facilitate the conversation with our alum, Maya Rosener, since she worked with the course as the student services representative. As we're discussing questions we might ask, Maya's smiling face appears. She's young and vibrant and sitting in front of a pink and teal wall whose playfulness reminds you she is joining us from a Spanish-speaking country far from here. Maya seems excited to share about her Outward Bound course, which at this point, was nearly eight years ago.
In 2014, Maya was a rising sophomore at Charles D. Owen High School in Black Mountain, NC. Owen had been partnering with Outward Bound for several years by this time to take their underclassmen on 5-day expeditions in the wilderness. These expeditions were meant to foster the relationships between students as they transitioned between middle and high school. However, this year, the new principal wanted to propose a different rendition of this wilderness course that brought together Spanish-speaking and non-Spanish-speaking students.
"I wanted to be sure we built support systems and connections for all students, particularly those whose native language was something other than English," said Meg Turner, the principal of Owen High School when Maya attended. When I spoke with Meg last week, she remembered getting the idea for this new course from the Charlotte Unity Project program another North Carolina Outward Bound School offering that is highly successful in bringing together students from different walks of life in Charlotte, NC. "I wanted our school to be inclusive and embracing of diversity," says Meg.
To me, this notion sounded admirable but daunting. That beyond the traditional challenges of Outward Bound—wet sleeping bags, filtering water numerous times, getting lost—students also had to overcome a huge language barrier.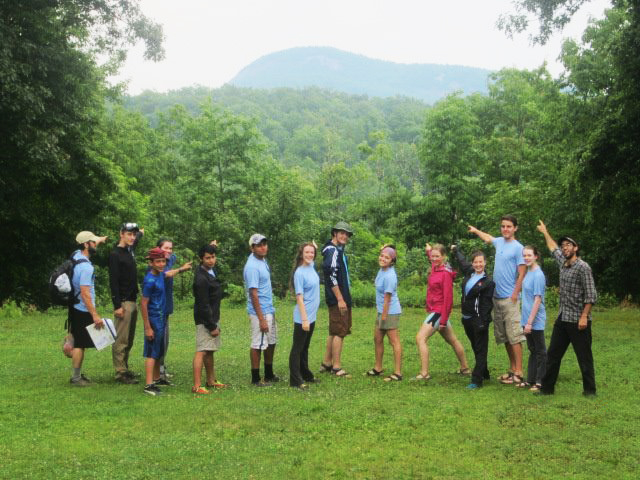 As Maya filled us in on all the details of her course, I couldn't help but wonder how it would have been to try to belay a crewmate or read a map and compass together without the basics of knowing the same language. For Maya, that point didn't seem to stick out as much as the actual relationship building that occurred. "We always found ways to communicate," she laughed. "We sang a lot of songs. We had inside jokes with funny broken words that we didn't translate quite right. We also used a ton of body language and would pick up items to show what we meant." Which, she says, is something she finds herself doing even now as she teaches English to elementary students in Costa Rica.
"One of the Outward Bound instructors also spoke Spanish," said Maya when asked how they were able to bridge the gap, "and our Spanish teacher was also there as an accompanying adult. Thank goodness! He helped us find certain words we didn't know." Maya explained it was actually her Spanish teacher who had given her the final push she needed to sign up for the course, ensuring her that it would help her become a better Spanish speaker.
When we asked Maya if she still spoke to her crewmates, she said she kept in touch the way many of us do, through social media. There was one crew member, however, that she said she saw on occasion because he lived locally, and that was Angel Rueda.
Angel Rueda attended the course with Maya in 2014. Today, he is the Co-Owner of The Boyz Automotive (formerly Redmon's Automotive) in Swannanoa, NC, just down the street from North Carolina Outward Bound School's main office.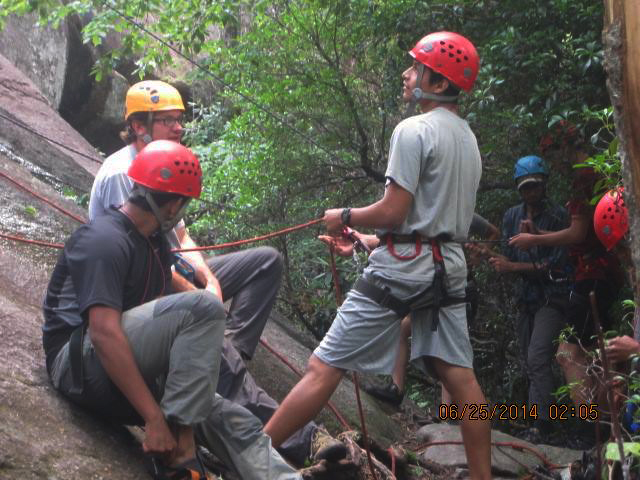 For Angel, the most challenging part of the course was that ever-looming language barrier, but he said, "We learned to work around each other's strengths and weaknesses." Just like Maya, he remembered the final challenge being a real test of the group's dynamics, "Suddenly, we were navigating ourselves with a map and compass, without the instructors telling us what to do."
"We hiked the wrong way for two miles," recalled Maya. "The two people on the map and compass had made a mistake. It was frustrating, for sure, but we ended up laughing about it. It will be okay, and we will get there eventually." And they did, all jumping into the Cedar Rock Base Camp's pond in celebration.
While Maya's group's structure may have differed from other Outward Bound courses, one thing still rang true. That despite all the trials and tribulations, the group grew incredibly close. As many Outward Bound alums can attest, it is often the challenge that the crews face together that bonds them, and from what it sounded like, it was no different for Maya.
"I can remember one evening the fire wouldn't start," explained Maya looking off as if trying to recall the details. "I can't remember what we did to figure it out; maybe we just added lukewarm water to our food packets? All I know is the food was definitely not warm, but we were laughing and having a great time."
Meg Turner, the aforementioned former principal at Charles D. Owen High School, has also been a long-time instructor for North Carolina Outward Bound School. She said part of the reason she championed the Spanish/English immersion course was that she understood the power of Outward Bound. She knew it would be an opportunity for her students to deepen their connections and commitment to the high school and each other. "I hoped our students would come off the program with new friends that would make everyone feel welcome in our school," Meg remembered.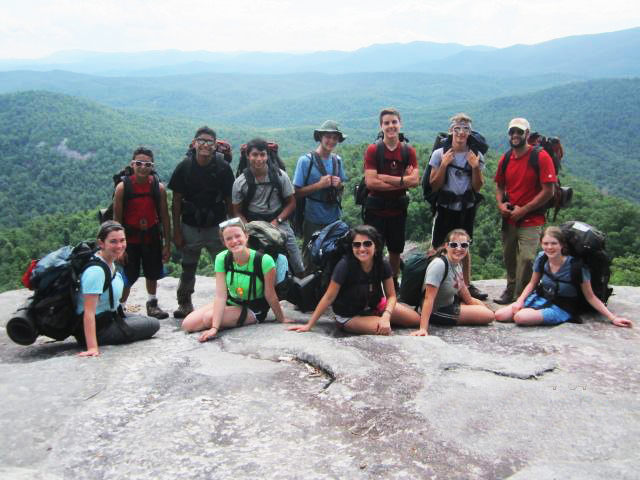 Once the students returned home from Outward Bound, Meg encouraged them all to lead a student leadership group at the high school with their newfound skill sets as a way to amplify student voices. For the next year, the group met weekly, and Maya suddenly had big brothers and sisters at the school looking out for her.
The group even helped lead the two-day freshman orientation to Outward Bound before they, too, went out on their own courses. "If you had asked me to do that before Outward Bound, I would have definitely said no," said Maya. "I just didn't think I had anything more to offer those students than anyone else." But her course had changed her. Suddenly, all the skills she learned in the forest also seemed applicable to navigating a new school. "We all felt like we had a lot of knowledge to pass on, skills like open-mindedness, confidence, and adaptability."
After graduating, Maya completed two gap year courses in Spanish-speaking countries, worked as a camp counselor at a Spanish immersion camp, and graduated college with a Spanish language degree.
"I think more than anything, Outward Bound made me realize that I can do hard things like move abroad because I have done hard things before. Before Outward Bound, I'm not sure I had really experienced anything difficult, so I'm glad I had those experiences to pull from."
Angel, who was a little older than Maya, started working and was mentored at Redmon's Automotive a few years after high school. In 2022, he and his coworker bought the business and took over ownership.
"For me, the biggest thing I took away from Outward Bound and use daily is being open and friendly when meeting new people. The whole experience was so great. I really enjoyed it."
As our interview was winding down, Maya was excited to reveal that her sister had just finished her own Outward Bound course last week. "When she came home from her course, she said something like, 'It was life-changing.' I kind of rolled my eyes thinking she was being dramatic," laughed Maya, "but the more I thought about it, the more I agreed. Outward Bound had changed my life."