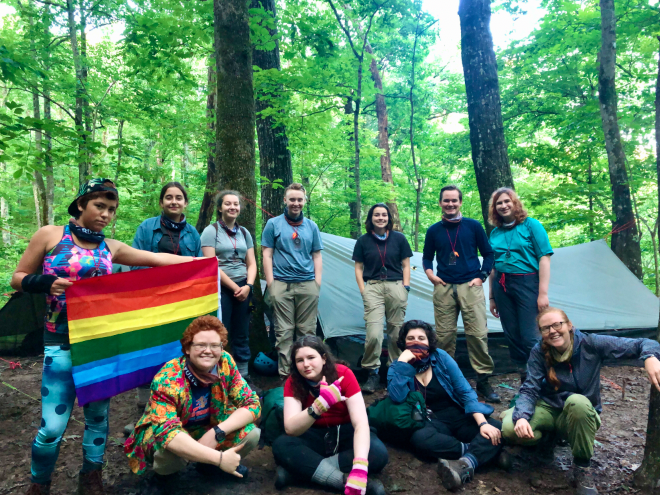 Written by: Nicole Fava
Featured Course: Blue Ridge Mountains Backpacking and Climbing for LGBTQ+ Young Adults
On an Outward Bound wilderness expedition, students and staff find themselves far from home and the distractions of life. They are forced to put aside outside factors and work together as a team to navigate to new locations each day, set up and take down camp, and tackle the physical challenges of rock climbing, paddling, or backpacking. It's in these settings that crews build their own communities with their own set of norms and rituals. Building such a community gives crews a peek into the world they hope to build outside of Outward Bound too. This aim is no truer than on North Carolina Outward Bound School's (NCOBS) Backpacking, Rock Climbing and Whitewater Canoeing course for LGBTQ+ teens, a course that welcomes a wide range of students and staff who identify as lesbian, gay, bisexual, transgender, and/or queer, and who choose to join a crew with a group of other students who identify as part of the LGBTQ+ community.
When Instructor Taylor Petty was asked to lead this course, she was hesitant at first. She felt some self-doubt. She wasn't sure if she was queer enough and found herself digging deep to think about her own experience as a queer person and how she might use that to support the students on this course. But her fears quickly dissolved when she received the student paperwork.
"I started getting excited to meet everyone. From what I could tell from the responses, it seemed like many of them would not have necessarily done an Outward Bound wilderness course if it had not been this specific course for LGBTQ+ students," said Taylor. "I felt so grateful that these students were trusting us to bring them into our world of outdoor education."
For Jack Blankenship, an alumnus of the LGBTQ+ course, this certainly rang true. He had never planned on going on an Outward Bound course, but in the process of finding a course for his brother, his parents spotted the LGBTQ+ course and mentioned it to Jack.
"I was a bit unsure about the whole living in the woods and pooping in holes thing," said Jack. "But my school is one that has very few 'out' queer kids like myself, and it isn't the most supportive. It's easy to feel alone. I knew that an experience where I would get to make close bonds with other queer people my age and be supported by queer instructors would be something really positive for me."
For Taylor and her co-instructor, Delia O'Grady, the most important thing was to make sure a program that is known for its challenge and self-discovery was instead focused on making the environment one that was fun, safe, and supportive.
Challenge is a big part of any Outward Bound program, but for the LGBTQ+ course, the ramp-up is more gradual. Many of the students on course have already been through challenging circumstances and are on their own road to self-discovery. The priority becomes building a foundation of trust, creating a supportive space, and then slowly adding elements of challenge
"From the very first day we did exercises to build up a trusting and supportive community," said Jack. "On the first day, we did the Alpine Tower and learned to belay, putting us in a position where we needed to trust and support each other."
Jack recalls having conversations about boundaries and how to best support each other. He learned that physical support like hugs, pats on the back, and high fives aren't the only way to support people. "Doing this work upfront helped us all get along smoothly and without incident; helping us trust each other more," he said.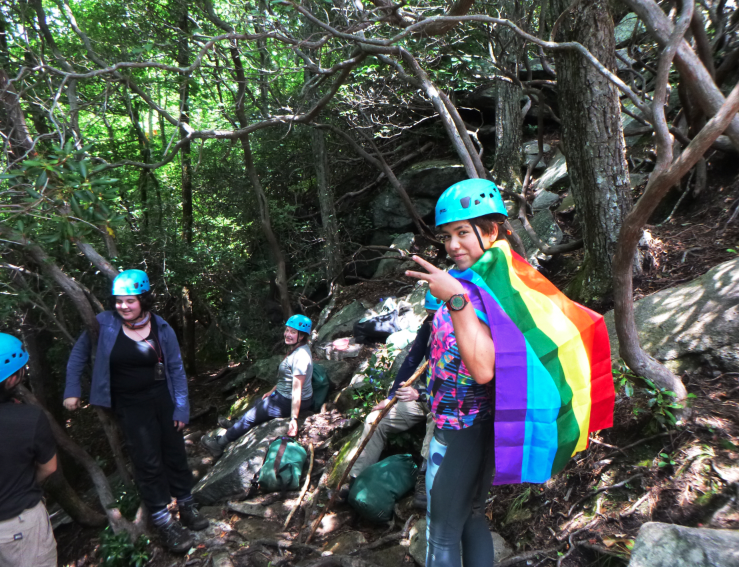 Two other important goals of the course: allowing students a space to meet and build community with other queer kids where some may not have had that chance, and not making it all about being LGBTQ+, but about being teens. Because, as many of us can attest, being a teen in today's world comes with its own set of complexities.
"One thing I appreciated was that our instructors didn't push us to talk about our identities and experiences – it all came naturally," Jack explained. "We didn't talk about a lot of LGBTQ+ stuff at first, but as we got to know each other better and build that trust, it came up in conversation organically. In just over a week I became closer to my crewmates than quite a few of my school friends I've known for years."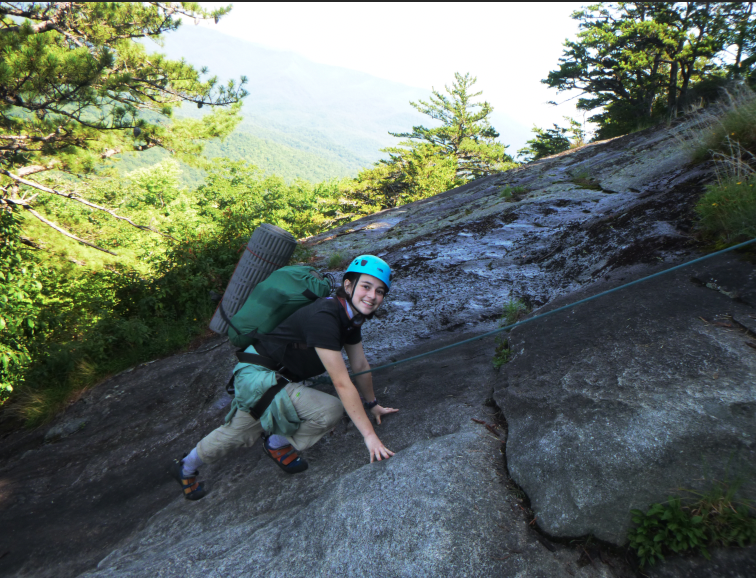 Both the students and instructors commented about how inspiring the last night of course was. In true Outward Bound fashion, the crew huddled around a campfire, awarded certificates, and reflected on the past week together. Taylor noticed that the students seemed to really find something in the wilderness— a community and a way of asking for what they need that they wanted to replicate when they got home.
That night, Jack and his crew also committed to carrying the skills and lessons they learned on Outward Bound home with them. "We wanted to make the environment outside of course as great as the one we'd created together," said Jack. "I realized at that moment what an amazing little community we had created."
For Jack, that was his on-course "aha" moment. "I often struggle with feeling undesired," Jack explained. "Sometimes I feel like people would feel happier or more comfortable if I simply weren't present. With my group of friends at Outward Bound, I didn't feel that at all."
"I realized that now that I really knew that other people fully desired me, I could desire and value myself and that I could also build that kind of environment for both myself and others wherever I go next."