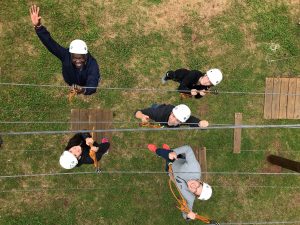 When Victoria Forbes-Roberts, the Vice President of Pricing and Revenue Management at Delta Air Lines, was asked to develop a nine-month-long leadership training program for high-performing employees in her division, she knew right away that North Carolina Outward Bound School would be involved. She had been inspired by the program at an early age when one of her high school teachers, who had been an instructor for Outward Bound, integrated the organization's experiential learning methods into her classroom. The Outward Bound approach—placing people in challenging situations and facilitating the outcomes—had made a lasting impact on her.
"A big part of leadership development is being exposed to a certain amount of vulnerability," she says. "The Outward Bound experience always pops up on the top of the list as the most meaningful part of (our) entire program." The one-day Outward Bound course takes place at the beginning of the Delta's LEAD Program and includes a handful of group initiatives in the morning and a high ropes course—a series of challenges harnessed participants must navigate as a team. For some participants, the high ropes course is thrilling; for others, it's unsettling, but it's an experience, she believes, that demonstrates the value of building lasting and meaningful relationships.
Victoria feels that including the Outward Bound experience early in the training has been a key factor in developing positive relationships among the participants. "We specifically chose this program and the timing to really bond the group together. It's not just a one-and-done program. It's been an accelerator for the curriculum and training."
As for Delta's bottom-line: the program has played an essential role in retaining and promoting talent within their division by helping participants cement stronger teams in the workplace.
Inspiring people to push beyond their comfort zone and tap into hidden strengths has been part of the mission of North Carolina Outward Bound School (NCOBS) for five decades. And while the school is best known for delivering life-changing wilderness programs, NCOBS is also on the cutting edge of facilitating professional and corporate development programs serving a wide range of organizations, from large multinational corporations to local non-profits with just a handful of employees.
"People can't be out of the office as long as they used to," says Cyndee Patterson of The Lee Institute. Patterson coordinates the Charlotte Regional Chapter of the American Leadership Forum (ALF), a 12-month long program for two-dozen community leaders from the Charlotte area that has included a three-day Outward Bound component since the program began nearly two decades ago. "We used to think it was a big deal to leave your watch behind," laughs Cyndee. "Try asking someone to leave their cell phone for three days."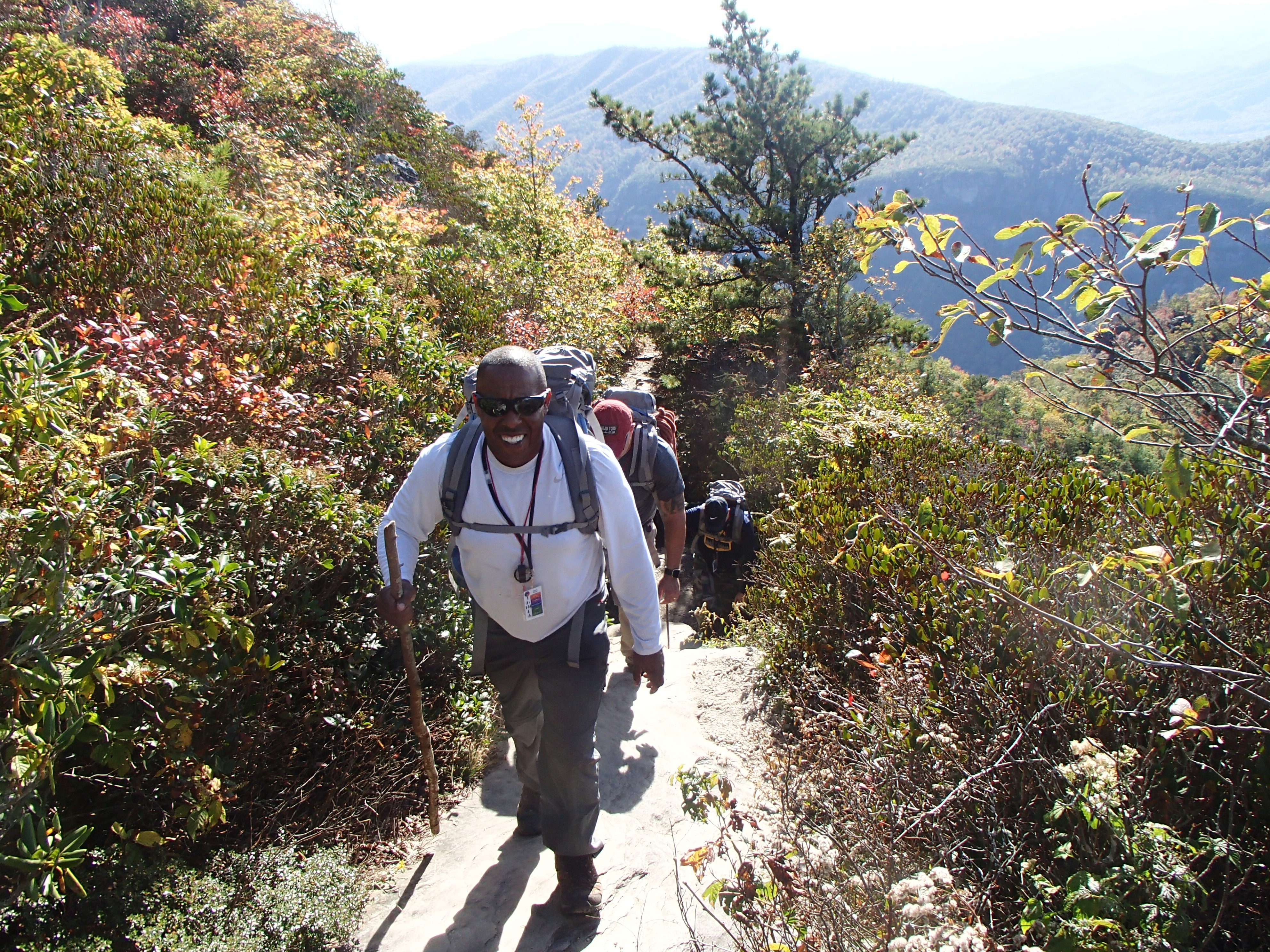 Bill Murray, the Director of Outward Bound Professional (OBP), admits that taking people out of the office for more than a day or two is increasingly rare. Even so, he says that NCOBS' corporate clients have increasingly sophisticated expectations of the Outward Bound experience. "There's more pressure on organizations to get the most they can out of their individual employees and their teams," he says.
These expectations have compelled Bill and his staff to design and deliver programs that provide meaningful results in less time. The key is to make the lessons as tangible and transferable as possible, regardless of the course length. Working over a period of time with a single organization, such as Delta and The Lee Institute's American Leadership Forum, has also been helpful. "We gain a much deeper understanding of the organization, their culture, and their objectives, and in turn, they understand more deeply the work we do and what they can gain from it," says Bill.
The goal of the American Leadership Forum (ALF) program is clear cut: to strengthen the leadership abilities of established civic leaders to better serve the public good. Participants are heads of business, government, education, faith, and community-based organizations. Cyndee's ALF chapter is part of a nationwide organization that requires each regional program to incorporate an outdoor component into their trainings.
"Everyone who comes to the program is already a proven leader. The Outward Bound course is designed to allow them to be better collaborative and adaptive leaders," explains Cyndee. "When you work in a community you can't say to people: "We're going to do this and march this way". What Outward Bound does so well is to help leaders understand how to make people a part of the process."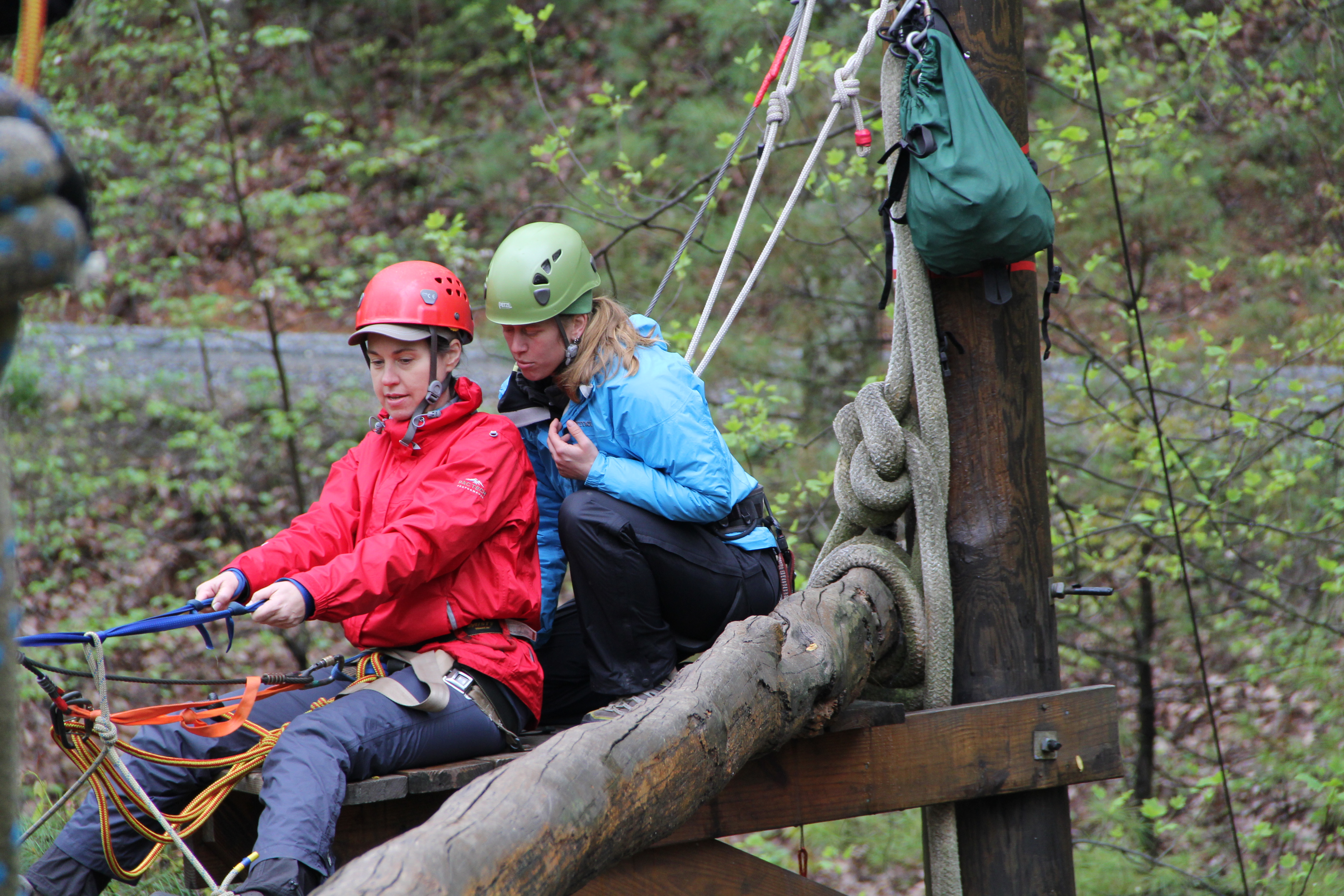 Outward Bound Professional Instructor, Bob Stout, has worked for the school for nearly three decades. Before becoming an instructor, Bob worked as a human resource manager for a manufacturing firm.
"As an HR manager I always felt there were missed opportunities to develop talent." Bob believes that a tangible outcome of all Outward Bound courses—whether a one-day or 28-day program—is the lesson that effective leadership does not involve one person finding a solution to every obstacle, but rather, discovering that the best possible responses emerge from group collaboration. "I think organizations today are dealing with more complex problems, which means that tapping into the wisdom of an entire team is more vital than ever."
That message is exactly what Cyndee and Victoria believe is the essential take-away and justification for asking busy people to take risks and precious time away from demanding jobs. Cyndee so believes in the power of the Outward Bound experience that she participates each year in the program she organizes. "I'm reminded whenever I'm struggling with a particular challenge of how important it is to ask for help. For many leaders, asking for help is really hard, but it's so important."
She believes that an Outward Bound course strips you down to your essence. "You're with people at the moment they're pushing themselves through a challenge. They do it because of the group and support. That's very unique to Outward Bound. They have created a really safe container (in which) to do hard things. At the same moment you're experiencing pushing beyond your own limits, you're discovering the strength of a team."
> REQUEST INFORMATION ON THIS PROGRAM