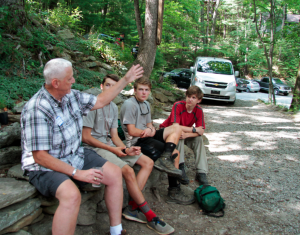 By Ryan Wilusz Staff Writer, Morganton News Herald
He looks behind him and then straight ahead — not a soul in sight. He sits on the ground all alone, with a couple quarts of water and a tin can of food to hold him over for the next three days.
It may seem like hell for a 17-year-old boy. But with all that's going on in the world in 1967, maybe being alone is just what he needs.
"I was never so glad to be away from somewhere in my entire life," he said.
Nichols was a member of the original crew that underwent the first North Carolina Outward Bound School expedition, which lasted more than 20 days in the summer of '67.
And on June 13, Nichols returned with other members of the original crew to welcome one of the newest crews back to the Table Rock base camp during their 22-day expedition.
Nichols sits all alone on a bench outside the school on June 13 with the luscious mountains stretching as far as his eyes can see. He looks to his left and spots some rhododendron. The memories begin to flood his mind.
Don't be fooled by the wooded plant and its beautiful pink flowers. He remembers hacking away at the leaves and buds to clear paths back when he was a student.
The plant was nothing but trouble — except for that time he piled the plants together to form a tent. It won him a competition. It won him the luxury of not having to set up camp that night.
It may sound like a small prize, but the little things seem bigger when being challenged day in and day out. That's what Outward Bound is all about. And that's what it's been about in North Carolina for 50 years now.
But take a step back to 1941 when German educator Kurt Hahn had his vision. With merchant seamen dying due to a lack of training, he saw the need to develop a course that went beyond teaching skills. Hahn saw the need to teach people to believe in themselves, which led to the first Outward Bound school being established in Wales.
"There is more in us than we know," Hahn said. "If we can be made to see it, perhaps for the rest of our lives we will be unwilling to settle for less."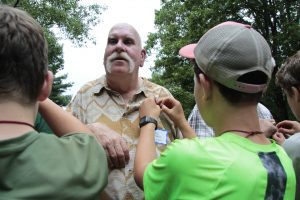 That mindset was passed on to Marjorie Buckley, who started the North Carolina school in 1967, and has since been passed on to current Executive Director Whitney Montgomery.
But in between these likeminded leaders was Executive Director John Huiz, who led the school from 1977 to 1994 and was at the welcoming ceremony on Thursday.
Although leaders and students have come and gone, Huiz said some things always will stay the same.
"You have ingredients to work with that are remarkable," he said. "You have voluntary commitment on the part of the young person to learn and grow and accept challenges. You have an extraordinarily compassionate staff, a remarkable environment and a methodology — do your best, try your hardest, make and effort in every challenge."
Since the North Carolina school was established, Huiz said it has impacted 150,000 lives. And as you are reading this article, students are most likely out in the wilderness being impacted now. Each crew is comprised of 12 members and two instructors, and 11 crews can be out at a time, Montgomery said.
But what exactly do they do out there?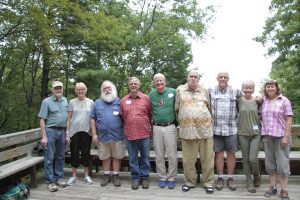 Backpacking, rock climbing, camping and canoeing are just a few of the activities students partake in. Oh, and there's a day dedicated to solidarity and a service project, too.
"While it's thought we teach about wilderness, we actually teach through wilderness," Montgomery said.
Each activity is based on four pillars: physical fitness, craftsmanship, self-reliance and compassion. But Huiz summed up the goal of Outward Bound in just two words: "creative self-discovery."
 "For many young people, Outward Bound is a rite of passage experience," Huiz said. "And they've been told this could be the hardest thing you've ever done."
And all 12 students in the crew agreed on June 13 — it has been hard. Some said the weather has been challenging — especially the rain. Some said the canoeing was difficult and had the bandages to prove it.
But camper Robby Marsh said a challenge has been understanding and accommodating everyone's different physical capabilities. Some people didn't know how to swim, and others had never even been long-term camping before, he said. Simply, everyone was different.
 "We know there is great value in the crew to have people from all walks of life," Montgomery said. "When you get to know people really close in an Outward Bound context, you get to know them very deeply."
Part of the attraction to the North Carolina school, which is the largest in the United States and one of the largest in the world, is the interesting topography and dedicated staff, Montgomery said. Also, about half of the students receive financial aid to participate.
The current students range in age from 14 to 18. Some are from the southeast while others came from as far as Seattle. And one original crew member came from as far as Pennsylvania to participate on Thursday.
"Hitting a 50-year anniversary is a milestone in any program," Montgomery said. "This specific gathering is to honor those original members for their boldness and what they've accomplished because of their outward bound courses. Also, it's about helping the older crew understand and youth and pairing them with someone they used to look like."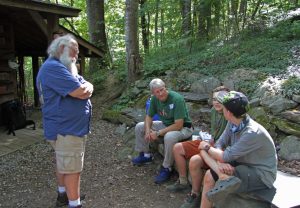 Nichols sits together with an old crew member and a few members of the current Outward Bound crew, who still have five more days before their expedition is over.
It's time to share stories, but the older crew members do most of the talking — not because the current members are shy but because going back to the school is like going back in time. The memories suddenly become clearer.
But to tell the truth, the current crew members' stories wouldn't compare anyways. Because the most important goal of Outward Bound is not the memories made on the expedition, Montgomery said. It's about the life lessons that students take with them and apply in the future.
And as for the future of the North Carolina Outward Bound program, Huiz believes its impact will continue to last. After all, the ingredients have never changed, he said.
"It's wonderful to see the school thriving," he said. "And I'm thrilled to know it's got another 50 years ahead."