Due to Leave No Trace camping ethics, we seldom build fires. You will be cooking on gas camp stoves. With coaching from your instructors, you learn backcountry cooking techniques and are responsible for helping with the preparation of all meals. Your diet will be a mix of dehydrated foods, fresh fruits and vegetables. We use rice, beans, tortillas, granola, oatmeal, crackers, salami, cheese, peanut butter, jelly, tuna fish, pasta and trail mixes.
The amount of physical activity you experience during your course demands a nutritious diet to help fuel your body. Junk food is not available on course. To prepare, we suggest you cut down on candy, soft drinks, pastries and other junk foods. All adult courses (including family courses) will have coffee and caffeinated (i.e., black and green) tea available in moderation.
Moderating alcohol and tobacco consumption will contribute to your fitness. These products will not be part of your Outward Bound course; a clear head and fast reflexes are essential to safety and success on course. If you are overweight, don't go on a crash diet to shed extra pounds; you will only deplete the strength you want to develop. Please check with our Medical Screener to set a realistic goal for weight loss and stay committed.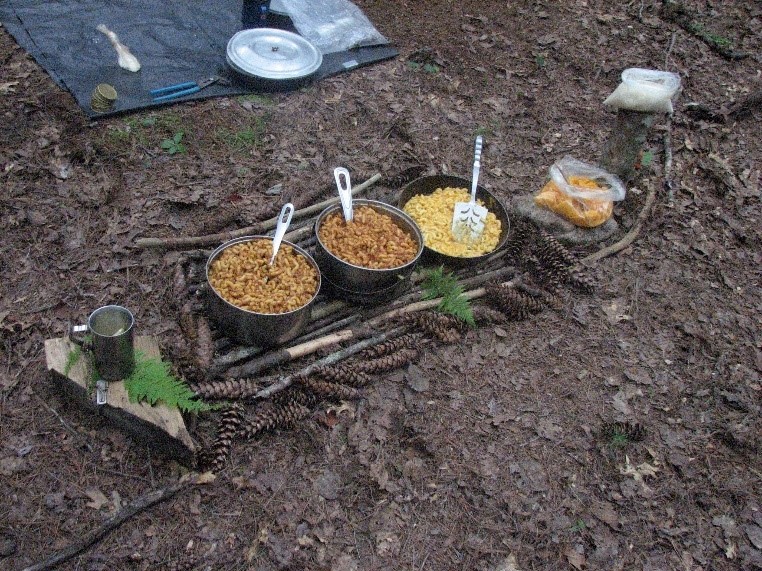 MEALS AT OUTWARD BOUND
The following list represents common meals at Outward Bound (this is not a menu)
Breakfast
Bagels and cream cheese
Pancakes with butter and syrup
Cream of wheat
Grits with cheese and dried fruit
Grapenuts or Granola and soy milk or cow's milk
Oatmeal with raisins and brown sugar
Huevos Rancheros: eggs, salsa, cheese and black beans on tortillas
Lunch
Peanut butter and Jelly on tortillas
Pizza: pepperoni, mozzarella, tomato paste, pita bread
Hummus with carrots, cheese and crackers
Salami with cheese and crackers
Beans Galore: black beans, red beans, white beans, corn, onion, Italian dressing on tortillas
Tuna and cheese on pita bread
Dinner
Pasta Alfredo: Rotini with alfredo sauce and mushrooms
Burritos: refried beans and rice with salsa and cheese
Tuna Mac: Macaroni with cheese, parmesan cheese, tuna and milk
Stir Fry: Rice and chicken with vegetables, coconut milk and curry powder
Veggie Chili with rice, cheese, onion and cornbread
Tacos: Natures Burger with tomato paste, cheese, onion and Tortilla
Drinks (other than water)
Cocoa
Tea/Coffee (in moderation)
Drink mix
Snacks
Fruit (oranges, apples)
Trail mixes (many varieties)
Goldfish crackers
Pretzels