Proper footwear is essential for your safety and enjoyment. Take the following information with you when shopping for boots. The best boot for our terrain for backpacking courses is described as:
light to medium weight with ankle support.
hard rubber sole
Waterproof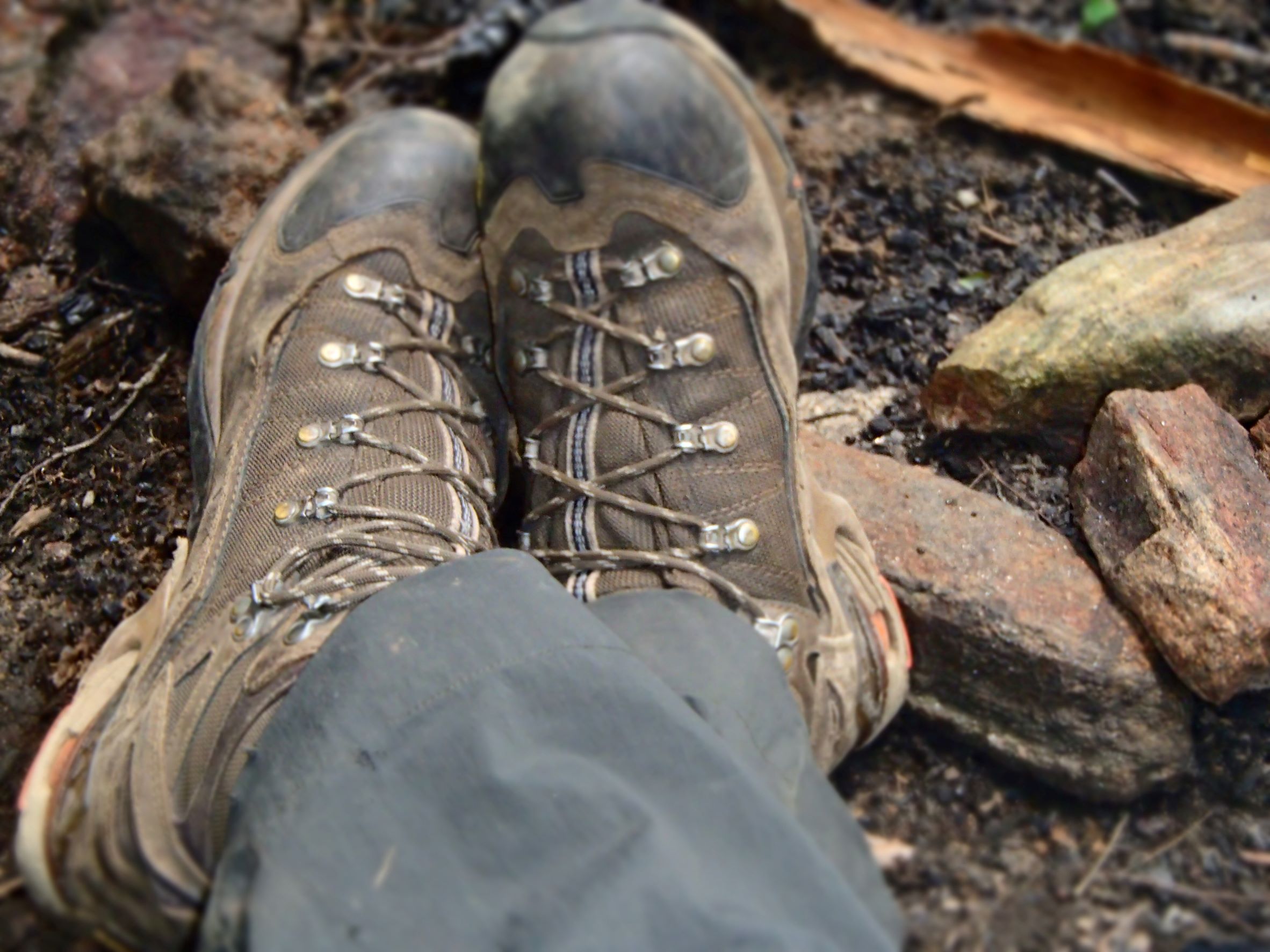 Do not bring:
mountaineering boots
tall boots that constrict the calf
Timberlands, Doc Martens, or Blundstones
FITTING YOUR BOOTS It is essential that your boots fit properly and are comfortable. You are unlikely to judge this walking around a store. Some retailers will allow you to purchase your boots with the understanding that if you wear them indoors for several hours and they do not feel comfortable, you may return them. Fit your boots with the socks you will wear on course.
Test 1: With the boots unlaced and your toes touching the front of the boot, the boot should be large enough to place your forefinger between your heel and the boot's heel.
Test 2: With the boot laced, your heel must be firmly lodged in the heel cup with very little lift when you walk.
Test 3: The boot should fit snugly around the ball of your foot so that when you twist your foot, it does not move or slip inside the boot.
Test 4: When on a steep incline or tapping the front of your boot against the floor, your toes should not hit the end of the boot.
BREAKING IN YOUR BOOTS Begin wearing your boots long before your course starts. Wear them around town and at home as much as possible every day for several weeks. You should put 10+ miles on your boots to break them in, walking on both level and rough terrain. If you start feeling any hot spots, treat them immediately using moleskin to protect against the hiker's worst enemy: the blister! Be kind to your feet.
WATERPROOFING YOUR BOOTS After you are confident your boots fit properly, make sure they are waterproofed. Some boots are already waterproofed when purchased; but if not, follow the sales associate or manufacturer's recommendations concerning the type of waterproofing to apply.