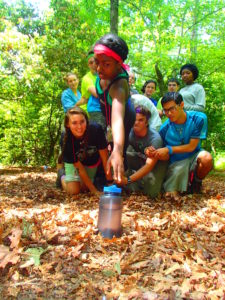 By Nicole Fava, NCOBS Alumna and Associate Director of Marketing, 2015
I have always believed that there is a power to the wilderness. The way the birds chatter and the wind rustles the trees-it gives you pause, it makes you listen and, most of all, it makes you present.
With such potential right outside my window, it still baffles me that I am in an office most of the week, banging away at the keyboard, trying to express these feelings to the next group of parents and students, convincing them that going Outward Bound can change their lives.
One of my favorite parts of my job is receiving the course-end paperwork from students. Piles of paper come to my desk from students, just off course, who have taken the time to write a letter to one of our donors who've helped get them on course by providing a scholarship. While time consuming, the task sometimes allows me to get away from my desk (maybe go outside), and read. It is in these letters that I find solace in what I do. These letters are thankful, sweet, sometimes even funny and, in many cases, they are total tear-jerkers. Yesterday was one of those box of tissue days.
While scanning through the towering pile of paperwork that I'd been pushing further and further along my desk, I noticed a few letters to sponsors from our Unity Program students. The Unity Program operates in Charlotte, NC in partnership with Charlotte Mecklenburg Schools. A group of students from each school is selected to represent the diversity of their community. These students then embark on an Outward Bound wilderness expedition designed to give them a place to assert their common humanity, develop courage and compassion as leaders, establish a democratic forum within which to discuss challenging issues, and create a model community within their crew. Upon returning home, the group forms a club to implement projects that address key issues within their communities.
To me, this all seems like a pretty miraculous feat, especially for teenagers. At that age I was worried about my next volleyball match, my new outfit and what the boy in my English class thought of me. However, after reading the letters from this Unity crew, I was reminded of the powerful work we do at Outward Bound, (even from behind a desk) and the great pride and faith we should have in this new generation of leaders.
"My trip was phenomenal. I challenged myself to do things that I never thought I'd do. The support of my group was what helped me through these challenges. Today, I was told that Charleston experienced a shooting in a mostly African American church by a Caucasian supremacist. I am positive that if that person had participated in this course or even embraced the four pillars, that this tragedy would not have happened. This world we live in is sadly full of evil, and hate, and this course allows for there to be more light, happiness, and compassion to potentially overcome this darkness." -Marvin, Age 17
"I am writing to you in the Pisgah National Forest on my final solo. During solo, I have had time to reflect on this amazing experience and what it taught me. My favorite part about course was the conversations that my group, now family, had. The twelve of us are very diverse in terms of race, socio-economic status and experience in the outdoors. The diversity in the group made our intellectual conversations extremely eye-opening, unlike any I had experienced before. I heard the voices of my peers that I never knew existed. The twelve of us formed an unbreakable bond this week. We united. We are all leaving this course eager to share our stories as well as unify the population at our school. Hopefully as stewards of social justice, our actions will extend farther than our school campus and into our community and the rest of the world." –Stuart, Age 17
"Coming on this course I thought it was just going to be a fun time with friends. Boy was I wrong. This course helped open my eyes to what is really wrong in this world. During the course we received the disturbing news that a nine people died at a church in Charleston. We talked about the tragedy and all of the kids said, "we are the new generation," and it stuck with me. We have the power to change the world. I had never given it much thought, I always thought that was just something our teachers told us, but from this course I realized I had more potential that I thought I did. When I get back to school I will return with the goal and passion to change people's negative ways of thinking." – Grey, Age 16
>Watch a video about the Unity Project